These spiced Baked Sweet Potato Wedges with Feta Cheese topping make a tasty side dish or snack.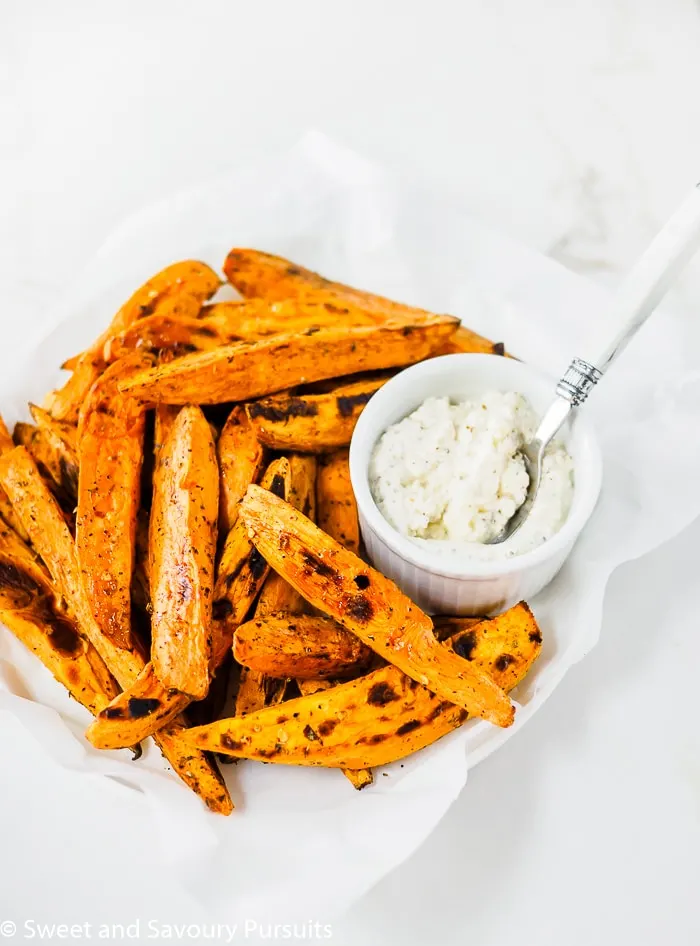 These savoury sweet potato wedges are seasoned with a combination of spices and herbs and then baked in the oven until nicely browned with crispy edges and tender flesh.
Topped with a mixture of softened and spiced feta cheese, they make a delicious and addictive dish perfect for serving as a side.
And if taste alone isn't a good enough reason to make these spiced sweet potato wedges, then make them for their health benefits. Sweet potatoes are super nutritious, they are high in fibre and Vitamin A and are loaded with essential nutrients.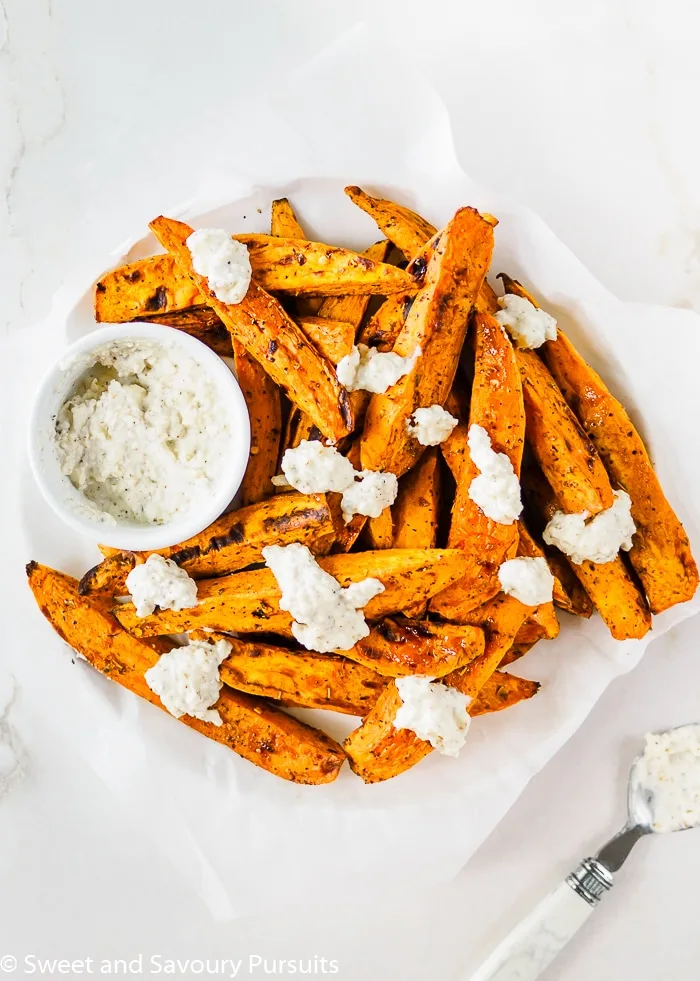 How to Bake Sweet Potato and Feta
These savoury sweet potatoes wedges are easy and quick to make. Here's an overview of the ingredients needed for this sweet potato and feta cheese recipe. For amounts, please see the recipe card at the bottom of this page.
Ingredients Overview:
Sweet potatoes
Olive oil, extra virgin
Dried oregano
Dried chilli flakes - or cayenne pepper
Sumac, optional
Salt and pepper - to taste
Feta cheese
Yogurt - or sour cream
Steps Overview:
Start by peeling and cutting the sweet potatoes into wedges. If you're not sure how to cut sweet potatoes into wedges, I've included directions on how to do so right after these recipe instructions.
Place sweet potato wedges in a bowl and drizzle with olive oil. Add the spices and mix them well, making sure to cover all of the potato wedges with the oil and seasonings.
Spread the sweet potato wedges in a single layer onto a baking sheet and bake them in a 400°F oven for approximately 30 minutes.
Though the feta cheese topping in this recipe is optional, it does add a tangy and salty contrast that is irresistible with the sweet potatoes.
To prepare the feta cheese topping, place a piece of feta in foil paper. When the sweet potato wedges are almost done, place the feta cheese in the oven and bake until it softens.
Once softened, combine the feta cheese with a touch of yogurt (or sour cream) and some dried oregano. You can also add a bit of cayenne or chilli flakes if you want to add heat to your topping.
How to Cut Sweet Potatoes into Wedges:
Rinse sweet potatoes under cold water and pat dry. You can peel them or leave the skin on.
Place the sweet potatoes on a cutting board and use a sharp knife to cut sweet potatoes in half lengthwise.
Place the sweet potato halves cut side down on the board and then cut eat half, again lengthwise, into 3 or 4 wedges depending on how large your sweet potatoes are and how thick you want the wedges to be. The most important thing is to make sure your wedges are approximately the same size so they bake evenly.
Tip: Buy your sweet potatoes on the smaller side so they are easier to handle and slice into wedges.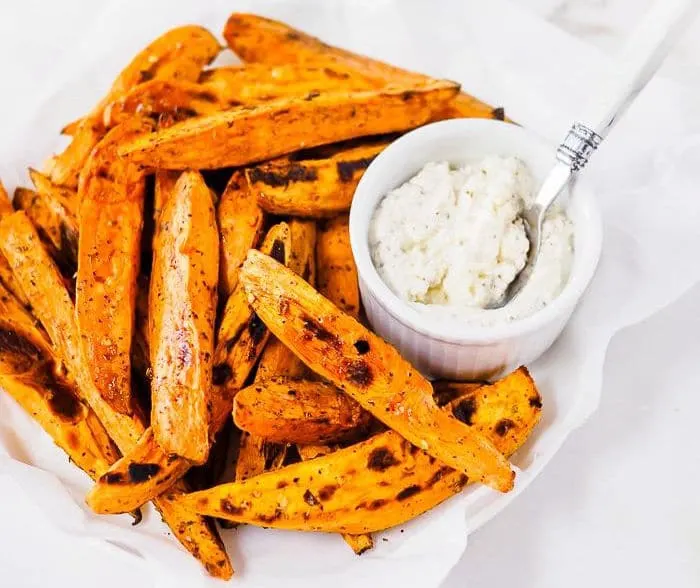 What to Serve with Sweet Potatoes
Serve these Oven-Baked Sweet Potato Wedges and Feta Cheese with a Roast Chicken dish, or this Pistachio Crusted Salmon. You could also serve them during the holidays alongside this fabulous Roast Turkey.
Enjoy!
More Sweet Potato Recipes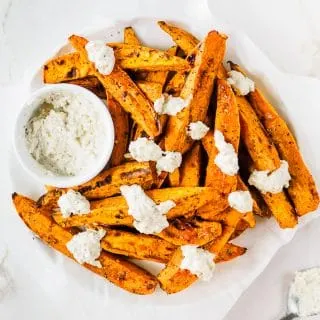 Baked Sweet Potatoes with Feta Cheese
Make these addictive, quick and easy oven Baked Sweet Potatoes with a Feta Cheese topping for a tasty and healthy side dish or snack.
Ingredients
2

lbs.

sweet potatoes

about 4 medium

1

tablespoon

olive oil

extra virgin

1

tsp.

dried oregano

½

tsp.

dried chilli flakes

½

tsp.

sumac

optional

½

tsp.

salt

freshly ground black pepper

to taste
Baked Feta
4

ounces

Feta cheese

1

tablespoon

plain yogurt

1

tsp.

dried oregano
Instructions
Position a rack in the center of the oven and pre-heat the oven to 400°F.

Line a baking sheet with parchment paper.

Prepare a sheet of foil paper by folding it to hold the bloc of feta cheese. Place the cheese on the foil and set aside.


Peel and cut sweet potatoes into wedges.


In a large bowl, toss the sweet potatoes wedges with olive oil, dried oregano, chilli flakes, sumac, salt and pepper.

Spread sweet potatoes in a single layer onto baking sheet and bake in the oven for approximately 20 minutes.


After 20 minutes, turn the sweet potatoes and add the feta cheese (in the foil container) onto the baking tray. Bake for an additional 10 to 12 minutes until potatoes are tender and nicely browned and the feta cheese has softened.


Remove the baked Feta cheese from the tray place it in a small bowl and add the yogurt and oregano. Mix well. Serve cheese mixture on the side or top the sweet potatoes with it.
Notes
These sweet potatoes wedges are on the spicy side, if you prefer your food less spicy, reduce the amount of chilli flakes or omit entirely.
Nutrition
Calories:
312
kcal
Carbohydrates:
49
g
Protein:
8
g
Fat:
10
g
Saturated Fat:
4
g
Cholesterol:
25
mg
Sodium:
692
mg
Potassium:
824
mg
Fiber:
8
g
Sugar:
11
g
Vitamin A:
32520
IU
Vitamin C:
5.4
mg
Calcium:
253
mg
Iron:
2.6
mg