Last Updated on December 4, 2018 by Sweet and Savoury Pursuits
Moist, tender and chocolatey, these Whole Wheat Double Chocolate Zucchini Chai Muffins are a delicious way to start your day.
A couple of weeks ago, I read the about the difficulties a mother was going through when it came to feeding her picky seven year old son. She wrote about how hard it was on her and how frustrating it was to have him reject the meals she worked hard to prepare.  But then one day, her son wrote her a letter. In it, he wrote which foods he did like and that he didn't like the foods that his mother was making for him. The mother was heartbroken but then spoke to her son who explained that he didn't like being picky and didn't like that he couldn't eat all the things that his siblings enjoyed. She came to the realization that as hard as it was on her, it was even more difficult for her son (you can read the article here).
That article really resonated with me. My eldest is also a picky eater, she barely eats any veggies unless it's cucumbers or they are puréed and unrecognizable to her.  But she does like many fruits, meats, pasta, rice, cheese, and some grains. So after reading this article, I too decided that I wouldn't stress myself out about it anymore.  I'll keep cooking the meals that she enjoys and will continue to invite her to try new things. But if she doesn't want to or does try it and doesn't like it, then that's fine.
However, this doesn't mean that I will stop making recipes that hide vegetables in them. I have found that I can get her to eat many new foods by incorporating them in baked goods. So far, it seems as though if it comes in the form of a muffin and there are some chocolate chips in it, she will like it.
The problem is I don't want to feed her muffins that have no nutrition in them at all, other than the little bit of veggies in them. So after searching on the internet, I found a recipe for Chocolate Zucchini Muffins on Eat. Drink. Love. that seemed really good, contained whole wheat flour, little fat and not too much sugar. I decided to try it, and the recipe turned out great.
Both my girls loved these moist and tender chocolatey muffins and did not notice the zucchini in them at all. Now I did peel the zucchini before grating, because just a speck of green would probably mean she wouldn't eat them. I did adapt the recipe a little by using only whole wheat pastry flour, increasing the amount of milk and steeping a bag of chai in it before adding the milk in the recipe.  The chai is barely noticeable but I did find it added some extra flavour. You can easily omit the chai if you don't like the taste or want to keep things simple. Enjoy!
Whole Wheat Double Chocolate Zucchini Chai Muffins
Moist, tender and chocolatey, these Whole Wheat Double Chocolate Zucchini Chai Muffins are a delicious way to start your day.
Ingredients
1 1/2

cups

whole wheat pastry flour

2/3

cup

sugar

1/2

cup

unsweetened cocoa powder

1

tsp.

baking soda

1/4

tsp.

salt

1/2

tsp.

ground cinnamon

1

large egg

lightly beaten

1/2

cup

unsweetened applesauce

1/4

cup

vegetable oil

1/2

cup

chai milk

hot milk steeped with one bag of tea for about 10 min and cooled to room temperature

1/2

tsp.

vanilla extract

1

cup

grated zucchini

squeezed to release some of the water

2/3

cup

semi-sweet chocolate chips
Instructions
Place a rack in the centre of your oven and preheat oven to 350ºF.

In a large bowl, whisk together the flour, sugar, baking soda, cinnamon and salt.

Sift the cocoa and add it to the flour mixture.

In a separate bowl, whisk together the vegetable oil, apple sauce, chai steeped milk, egg and vanilla.

Add the wet mixture to the dry ingredients and mix until well blended.

Add in the zucchini and the chocolate chips, mix until just combined. Don't over-mix the batter or you will have tough muffins.

Evenly spoon the batter into the greased or paper-lined muffin cups.

Bake until a toothpick inserted in the centre of the muffin comes out clean about 20 minutes.

Let the muffins cool in the pan on a rack for 5 minutes before removing them and placing onto a wire rack to cool.
Nutrition
Calories:
217
kcal
Carbohydrates:
31
g
Protein:
4
g
Fat:
9
g
Saturated Fat:
6
g
Cholesterol:
15
mg
Sodium:
164
mg
Potassium:
218
mg
Fiber:
3
g
Sugar:
16
g
Vitamin A:
60
IU
Vitamin C:
2
mg
Calcium:
33
mg
Iron:
1.8
mg
Tried this recipe? Have any questions, comments or suggestions? Leave a comment below!
Let us know how it was!
Try this Lemon Zucchini Walnut Loaf next: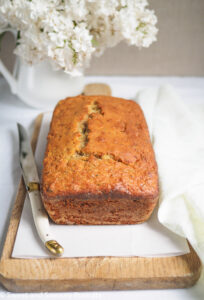 Save
Save
Save
Save
Save
Save
Save