This easy recipe for a classic Glazed Lemon Loaf yields a refreshing and moist lemon cake. Top it with an optional tangy lemon glaze for a scrumptious treat!
Jump to Recipe
Print Recipe
If you love lemon desserts as much as I do you will want to try this Glazed Lemon Loaf. Similar in texture to a pound cake, this light lemon cake is moist and buttery. Though I top the cake with a simple lemon glaze, the cake is delicious with or without it.
This cake is a perfect way to celebrate the arrival of springtime. It would also make a wonderful addition to Easter and Mother's Day celebrations.
This refreshing lemon cake will not disappoint. It's perfect for serving at brunch, for an afternoon snack and even sweet enough for dessert. With only a few easy steps you can enjoy buttery lemon flavour coming from every bite of this moist and tender loaf.
What You'll Need
This lemon loaf can be made with only basic baking ingredients and fresh lemons. For this loaf cake you'll need the following ingredients:
All-purpose flour
Baking powder and soda for leavening.
A touch of salt.
Unsalted butter. If all you have is salted butter, don't add any additional salt to the recipe.
Granulated sugar. I have not tried this recipe with any other sweetener or sugar subsitute.
Large eggs.
About 3 fresh lemons. To get the best lemon flavour and the most out of my lemons, I like to use both the zest and juice in my lemon flavoured baked goods.
Sour cream. If you don't have any sour cream around you can use yogourt in its place.
Vanilla extract.
Powdered sugar and a touch of milk or cream for the glaze.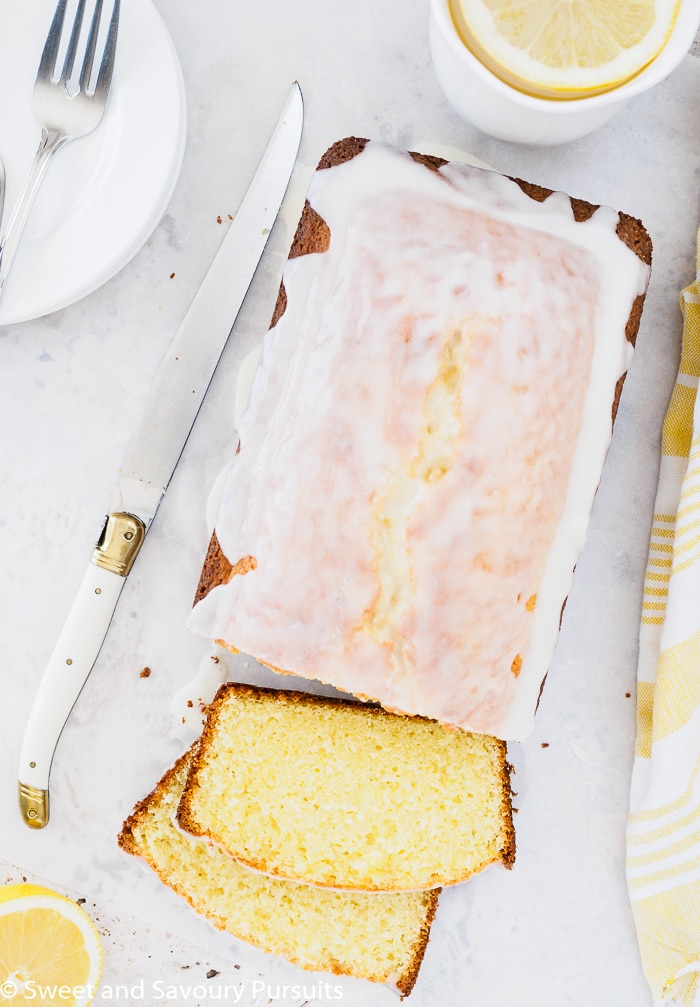 How to Zest and Juice a Lemon
Since we are using both lemon zest and juice in this recipe, it's important to start by removing the zest from the lemons before juicing them. Trying to zest an already juiced lemon is not an easy task!
Also frustrating is not having a good zester to work with. Investing in a good zester will make sure that you get optimal results by getting all the aromatic zest off the lemons.
Remember to only zest the coloured part of the citrus fruit, the white pith underneath is bitter and will impart a bitter taste to your baked goods.
Before juicing the lemons, apply a bit of pressure on them while rolling them back and forth on the counter a few times. This extra step will help you get more juice out of them.
How to Make a Lemon Glaze
The most challenging part of making this Glazed Lemon Loaf is having to wait for it to cool enough to glaze it. The glaze in this recipe is a simple mixture of icing sugar (confectioners' sugar), a squeeze of fresh lemon juice and a touch of cream or milk.
To make the lemon glaze, just whisk the ingredients together in a bowl. You can add more lemon juice if you prefer it tangier, and more cream or milk to get a thinner glaze.
This simple lemon glaze gives the loaf a bit of extra sweetness and an extra hit of tanginess. Instead of topping the entire bread with the glaze (as shown in the pictures) you can simply use a fork or whisk to drizzle the lemon glaze on parts of the loaf.
How to Freeze this Loaf
This loaf can be made ahead of time and frozen. I recommend freezing the loaf without the glaze. You can use a large freezer bag or wrap it in plastic wrap and then aluminum foil. Glaze the loaf once it has thawed and is at room temperature.
If you love lemon flavoured desserts, you'll want to take a look at this decadent Lemon Poppy Seed Cake with Cream Cheese Frosting, it's to die for.
Enjoy!
More Must-Try Loaf Recipes
If you make this recipe let me know how it went for you in the comment section below. I'd love to know if you made any variations to the recipe and how it worked out. And if you take a picture, share it with me on Instagram by tagging #sweetandsavourypursuits, I love to see your photos!
This post was originally published by Sweet and Savoury Pursuits on March 26, 2018.