This easy to make spiced Pear, Date and Walnut Loaf cake is made with fresh pears and studded with sweet dates and crunchy walnuts. It's perfect for serving as a snack or light dessert!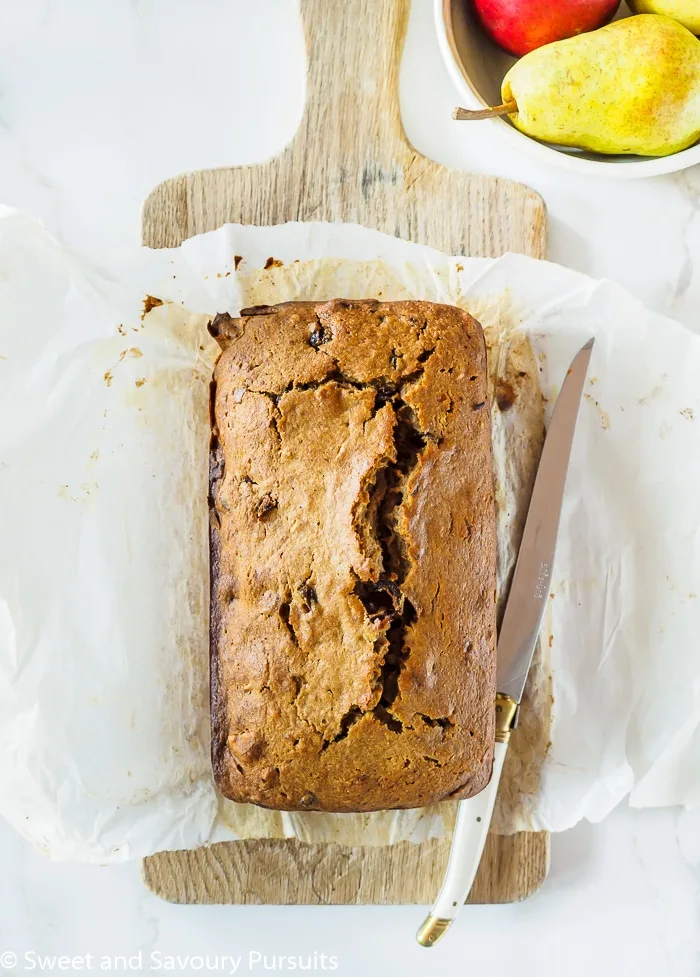 This Pear, Date and Walnut Loaf spiced with cinnamon and nutmeg is flavorful, tender and moist. It's only lightly sweetened with sugar as the dates add plenty of natural sweetness.
The toasted walnuts add a nice crunch to the loaf but can be omitted if you prefer not to have nuts in your bread.
If you make this pear loaf cake you'll find it bakes up beautifully and when you take it out of the oven the smell is intoxicating!
If you would like to try a similar recipe that doesn't include pears, this recipe for a simple Date and Walnut Cake is just as delicious!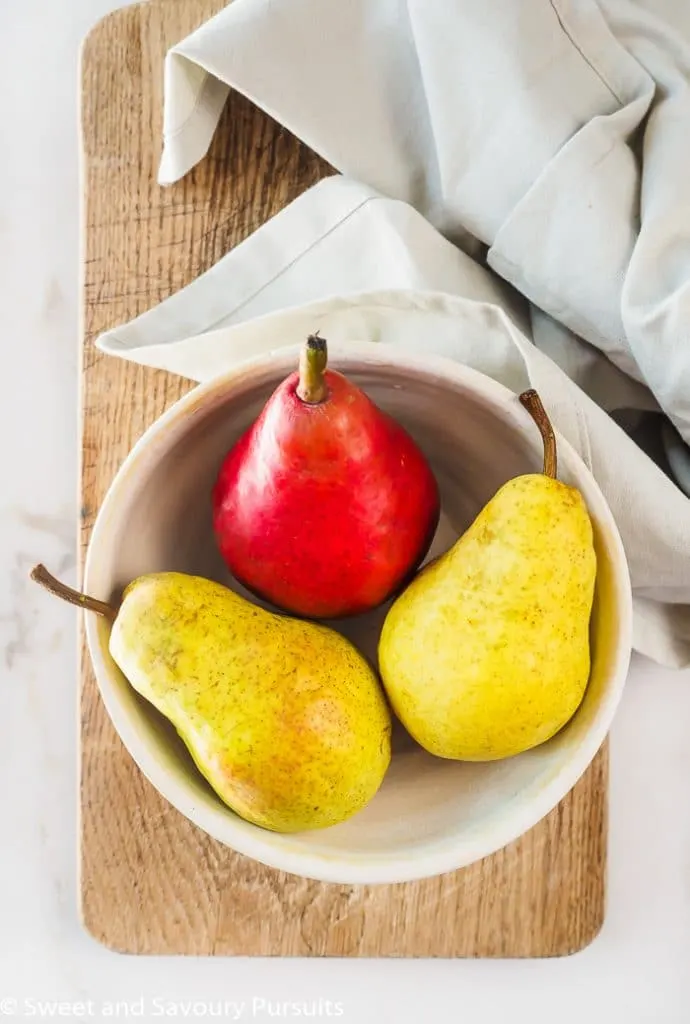 How to make it
One of my favourite things about quick breads is how easy they are to make. Though there is a bit of preparation involved with making this pear bread, none of it is too demanding and the batter can be easily mixed by hand.
Here's an overview of the ingredients and steps to make this date and walnut loaf. You can find the full recipe at the end of this post.
Ingredients Overview:
Dried dates
Pears
All-purpose and whole wheat pastry flour. Or you can use only all-purpose flour.
Baking powder, baking soda and salt
Ground cinnamon and nutmeg. Use freshly grated nutmeg for the best flavor.
Bown sugar
Light tasting oil. You can use canola, vegetable or even a light olive oil.
Eggs
Pure vanilla extract
Walnuts. Can substitute pecans. You can also leave nuts out if allergies are a concern.
Tip: Toasting the walnuts prior to adding them to the batter will add texture and flavor to your bread. Toast walnuts in a 350ºF oven for about 10 minutes or until fragrant, let cool and chop coarsely.
Steps Overview:
The dry dates in this recipe need to be softened before using in the recipe. To soften them, simply add the dates (and a touch of baking soda) to a small bowl and add half a cup of boiling hot water to the bowl. Let the dates sit for 15 to 30 minutes to soften.
While waiting for the dates to soften, you can combine the dry ingredients and set them aside. Then peel, core and grate the pears.
Once the dates are soft, combine the wet ingredients, the grated pears and the softened dates (with the water used to soak them). Now it's just a matter of combining the wet and dry ingredients together.
If you're adding walnuts to the pear loaf cake now is the time to add them in, give the batter a quick stir and pour it into a greased or lined loaf pan. It will take about 55 to 60 minutes to bake the loaf.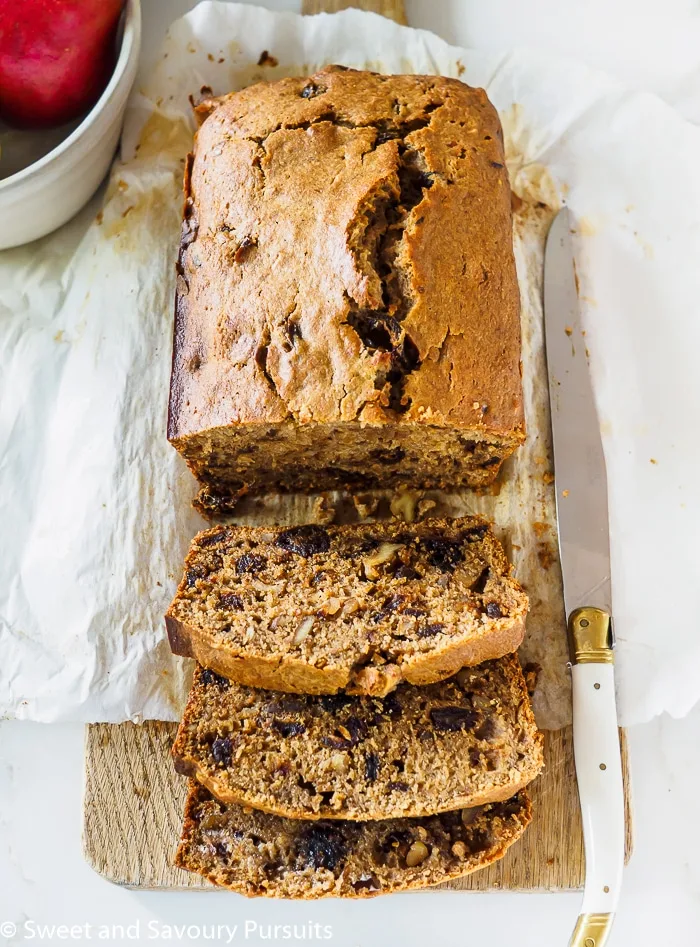 Serving Suggestions
This Pear, Date and Walnut Loaf cake can be served slightly warm or at room temperature. I like to serve this loaf still warm with a bit of butter to spread on the slices and a hot cup of coffee or tea for a delicious treat.
Storage Instructions
Store the bread in an airtight container for up to three days at room temperature. It can also be refrigerated for up to a week.
You can also freeze this date and walnut loaf for up to three months. Wrap it in plastic wrap and store it in a freezer bag before freezing. Thaw the bread overnight in the refrigerator before serving.
If you love baking with pears, this Pear and Blueberry Crumble is one of the most popular recipes on this site!
Enjoy!
More Quick Breads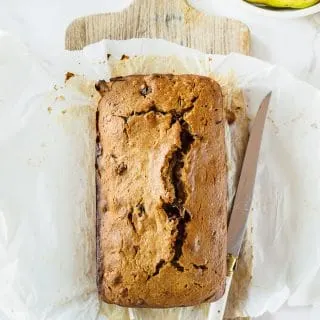 Pear, Date and Walnut Loaf
This delicious and easy to make spiced Pear, Date and Walnut Loaf is studded with sweet dates and crunchy walnuts. Enjoy a slice for breakfast, as a snack or dessert!
Ingredients
1

cup

dried dates

pitted and chopped

½

cup

boiling water

½

teaspoon

baking soda

2

medium sized pears, medium ripe

peeled and grated

1

cup

all-purpose flour

1

cup

whole wheat pastry flour

(or all-purpose flour)

1

teaspoon

baking powder

1

teaspoon

cinnamon

½

teaspoon

nutmeg

¼

teaspoon

salt

½

cup

brown sugar

packed

½

cup

light tasting oil

2

eggs

large

1

teaspoon

pure vanilla extract

¾

cup

walnuts

toasted (see notes) and chopped
Instructions
Place a rack in the middle section of your oven and preheat oven to 350°F.

Add 1/2 cup boiled water over the chopped dates. Add baking soda and let sit 15 to 30 minutes.


Peel and core the pears, then grate them. Set aside.


In a medium sized bowl, combine and whisk together the flours, baking powder, cinnamon, nutmeg and salt.

In a small bowl, beat sugar, eggs, oil and vanilla extract. Add the grated pears and the dates (along with their liquid) and stir until combined. Add the wet ingredients to the dry, stir the mixture until evenly incorporated and then add the chopped walnuts and mix in.

Scrape the batter into the prepared loaf pan and bake for approximately 55 to 60 minutes or until a wooden skewer inserted in the centre comes out clean.


Place pan on rack for 10 minutes to cool before lifting loaf out of pan. Serve warm or cooled. Loaf can be kept at room temperature for a few days.

Notes
Toasting the walnuts will add to the texture and the flavour of your loaf. You can toast walnuts in a 350ºF oven for about 10 minutes or until fragrant, let cool and chop coarsely.
Nutrition
Calories:
304
kcal
Carbohydrates:
39
g
Protein:
4
g
Fat:
15
g
Saturated Fat:
1
g
Cholesterol:
27
mg
Sodium:
111
mg
Potassium:
253
mg
Fiber:
4
g
Sugar:
19
g
Vitamin A:
50
IU
Vitamin C:
1.4
mg
Calcium:
53
mg
Iron:
1.5
mg
This post wast originally published in September 2017. It has been updated. The recipe remains unchanged.Save