A simple to follow Rolled Baklava Recipe for Lebanese homemade walnut Baklava rolls also commonly known as Baklava Fingers.
Jump to Recipe
Print Recipe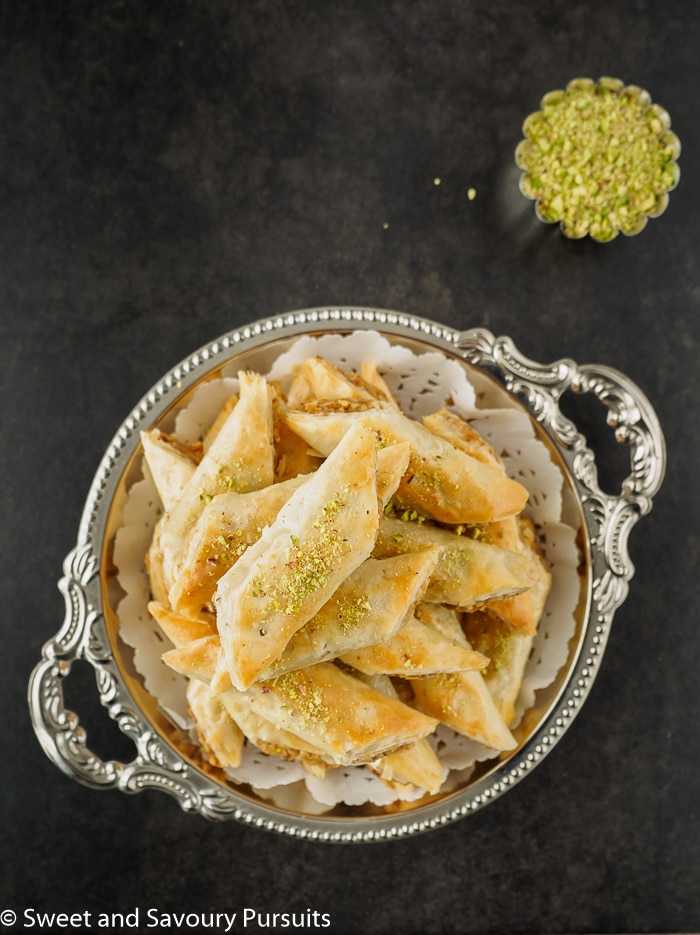 Walnut Baklava
Baklava, pronounced baklawa in Arabic, is a delicious pastry made with phyllo dough, ground nuts, butter and sweet syrup made of sugar or honey.
Many variations of baklava exist and depending on what your preference is, you can make it with ground walnuts, almonds, cashews, pistachios or even a combination of these nuts.
You can also find baklava in different formats, some are made rolled like cigars or fingers (like in this recipe) while others make them by layering the ingredients in a pan and portioning the tray into individual servings that they cut into diamond shapes.
My family's preference is for rolled baklava fingers, and walnut stuffed baklava is our favourite so this is the recipe I'm sharing with you here.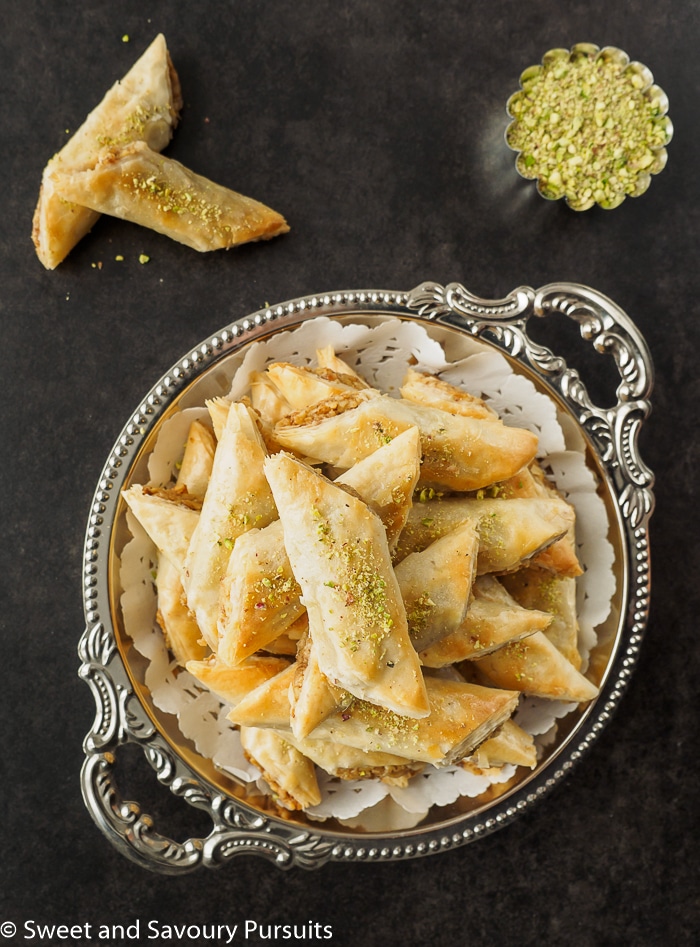 If you've been following my blog, then you know that I love to bake. To prepare for the holidays, my mother and I often bake together which I always find such a treat. My mother's not only a great baker, but she's also an amazing cook!
Now she doesn't precisely measure her ingredients when she makes baklava, so to share this recipe with you, we measured all of the ingredients so that you can make this recipe with the same delicious results every time.
Note that this recipe makes a lot of baklava (about 100 pieces), but you can easily divide the ingredients in half if you want to make a smaller quantity.
How to Make Baklava Fingers
I'm not going to lie, making baklava this way is time consuming. There are a few steps that can be done ahead of time that will speed up the process.
Ingredients Overview:
Phyllo pastry
Unsalted butter
Walnuts. For best flavor, walnuts should be lightly toasted before chopping to a medium texture.
Granulated sugar
Water
Orange blossom water
Lemon juice
Steps Overview:
You can toast the walnuts and once they're cool you can chop them in your food processor.
You can also prepare the sugar syrup ahead of time.
Below is a picture (of my original post) that shows you how to lay out the phyllo dough and nuts as you prepare to roll it. My mother likes to roll her baklava using the wider side of the phyllo sheet. It can take some practice to do it this way. If you find it too difficult, you can lay the nuts on the shorter end of the phyllo sheet and roll it from that end. It's easier to control the tightness of the rolls that way.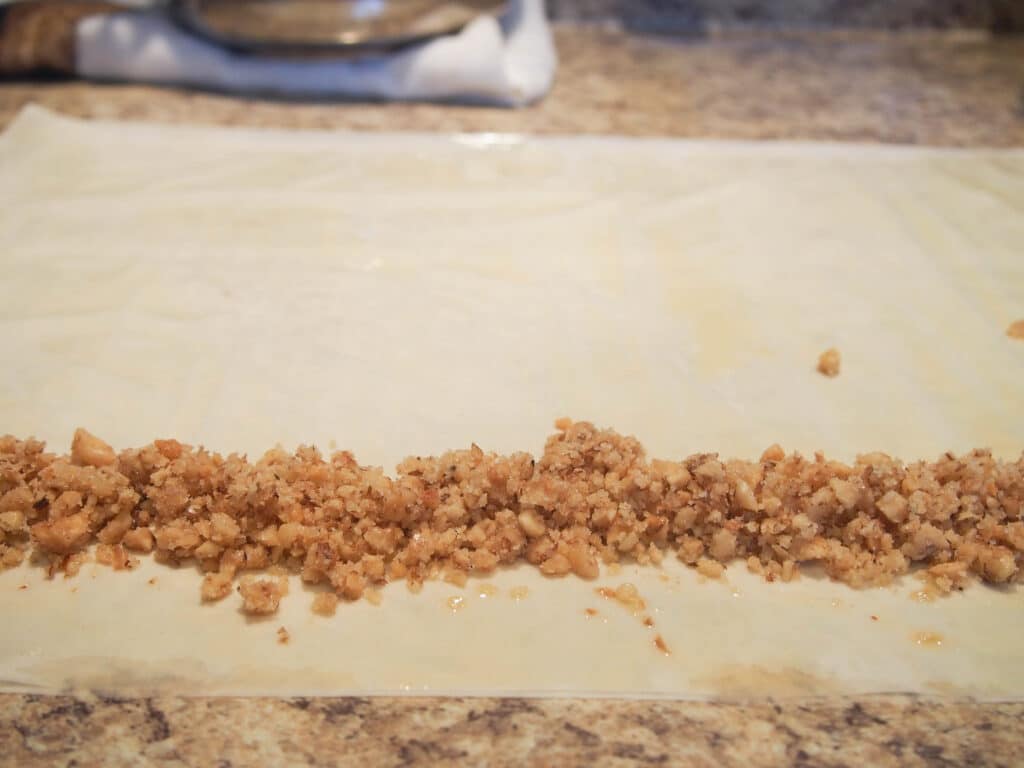 You'll have a lot of Baklava if you end up making this recipe in full. To make a smaller batch, you can easily divide the recipe in half. You'll still have about 50 individual baklava pieces.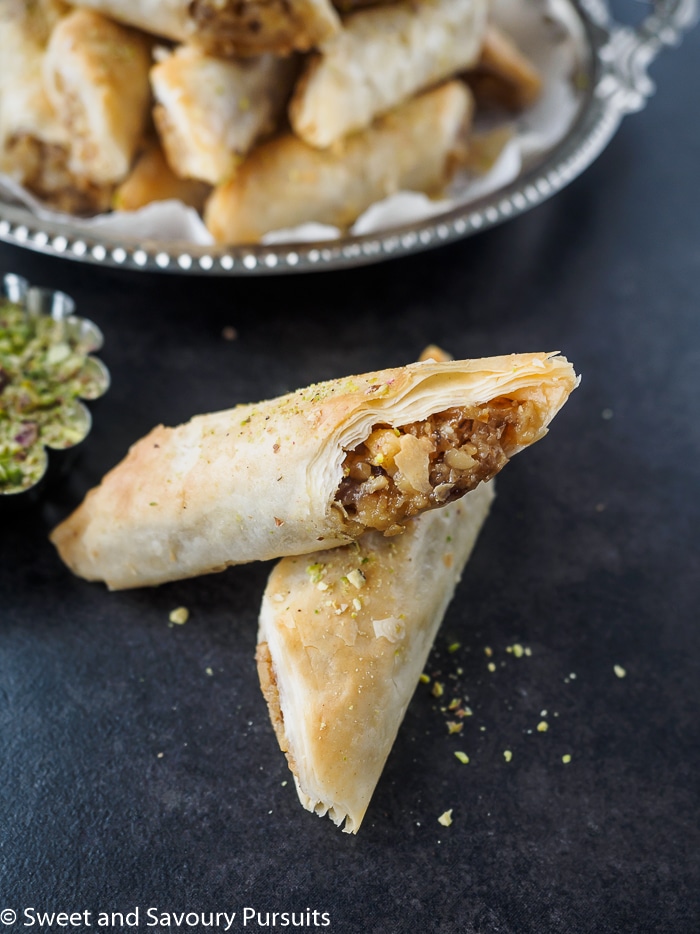 How to Store
Luckily baklava freezes well. You can freeze extra Baklava for up to 3 months. Store them in an airtight container with wax paper in between the layers of cookies. Thaw overnight in the refrigerator before serving.
Enjoy!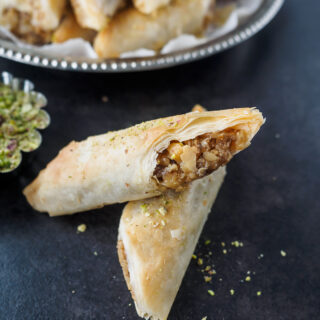 Rolled Baklava Recipe
Sweet and Savoury Pursuits
A simple to follow homemade recipe for delicious walnut stuffed Middle-Eastern rolled baklava.
Ingredients
Ingredients for the Baklava:
2

lbs.

phyllo pastry

thawed

1

lb.

of unsalted butter

melted

8

cups

walnuts

lightly toasted and ground to a medium texture

1-1/4

cups

of granulated sugar

¼

cup

water to moisten nuts and sugar

1

tsp.

orange blossom water

more to taste
For the syrup:
3

cups

of water

4

cups

of sugar

2

tsp.

lemon juice

1

tsp.

orange blossom water
Instructions
For the Sugar Syrup:
In a large saucepan, combine water, sugar and lemon juice.

Bring to a boil and then simmer for approximately 20 minutes until syrup thickens, add the orange blossom water and stir. Remove from heat and set aside to cool.
For the Filling:
To make the filling, process the walnuts in a food processor using the pulse method until they are medium ground.

In a large bowl, combine the chopped walnuts, sugar, water and orange blossom water until blended; set mixture aside.
To assemble and bake the Baklava:
Melt the butter in a small saucepan over low heat. You will need to return the butter to the heat as you work to keep it from solidifying.

Start with unfolding one package of phyllo dough. Take two phyllo sheets together and roll them, repeat for every 2 sheets in package and stack them. Cover the stack with a clean plastic bag and then a tea towel. Make sure your unused dough rolls remain covered while you work.

Take one roll of phyllo and unroll it so that it lays flat on the counter. You will be working with the wider side. Brush the phyllo dough evenly with melted butter.

Spoon about 6 tablespoons of the walnut mixture evenly along the edge (closest to you) of the phyllo dough, leaving a one inch border.

Fold dough over once to cover the nuts and then proceed to roll the dough around the nuts until the end (like a cigar). Make sure to roll the baklava as tightly as possible without breaking it.

Once rolled, place seam down and portion it into approximately 6 even pieces.

Move the cut pieces (again seam down) onto the baking sheet. Repeat process until you have a full sheet of baklava.

Brush the cut pieces of baklava with the melted butter and then bake for approximately 22-25 minutes, until golden and crisp.

Remove from oven and brush baklava with butter one more time. Cool baklava on baking sheet for a few minutes, then submerge them in the prepared syrup. Turn pieces to coat well with syrup, and then move them into a colander to drain excess syrup.

Repeat this process until all phyllo dough and ground nuts are used.

Optional: Before serving, sprinkle a bit of ground unsalted pistachio nuts above each piece of baklava. Store the baklava in an airtight container for up to 10 days.
Notes
To toast the walnuts, heat oven to 350°F. Spread walnuts on a baking sheet and bake for 10 minutes, stirring nuts once after 5 minutes. Let cool.
Orange Blossom Water can be found in Middle-Eastern grocery stores.
Baklava can be frozen. To store baklava, place a sheet of wax paper between the layers of baklava in your container. Thaw in the refrigerator overnight or at room temperature for about 4 hours before serving.
Nutrition
Calories:
161
kcal
Carbohydrates:
16
g
Protein:
2
g
Fat:
10
g
Saturated Fat:
3
g
Cholesterol:
9
mg
Sodium:
45
mg
Potassium:
49
mg
Sugar:
10
g
Vitamin A:
115
IU
Vitamin C:
0.2
mg
Calcium:
11
mg
Iron:
0.6
mg
Keyword
Baklava, Baklava Fingers, Baklawa, Lebanese Sweet, Rolled Baklava Recipe, Walnut Baklava
This post has been updated with new pictures and new content.
SaveSaveSaveSave