This easy to make, Fattoush Salad recipe is made with simple healthy ingredients, homemade pita chips and a bright zesty dressing made with olive oil and lemon juice.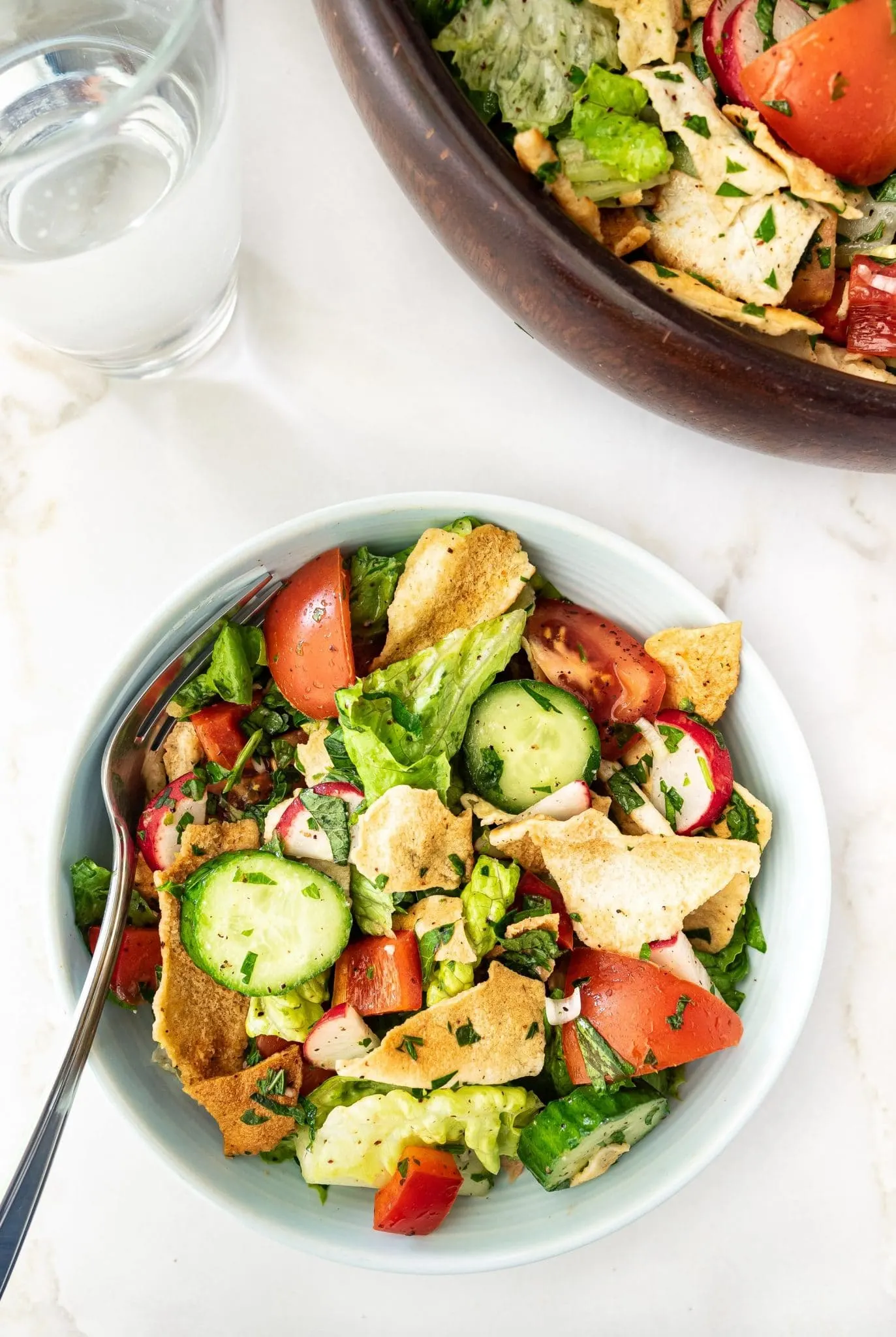 This Fattoush Salad is full of fresh and crispy vegetables, aromatic herbs and toasted pita chips. The bright and fresh dressing is packed with flavour and makes every bite of this amazing salad delicious.
This refreshing toasted bread salad is perfect for making use of leftover pita bread and for serving on hot summer days when you don't want anything heavy!
Serve this popular Lebanese salad as a light main course or a side dish to these Chicken Shawarma Kebabs and Kafta Kebabs.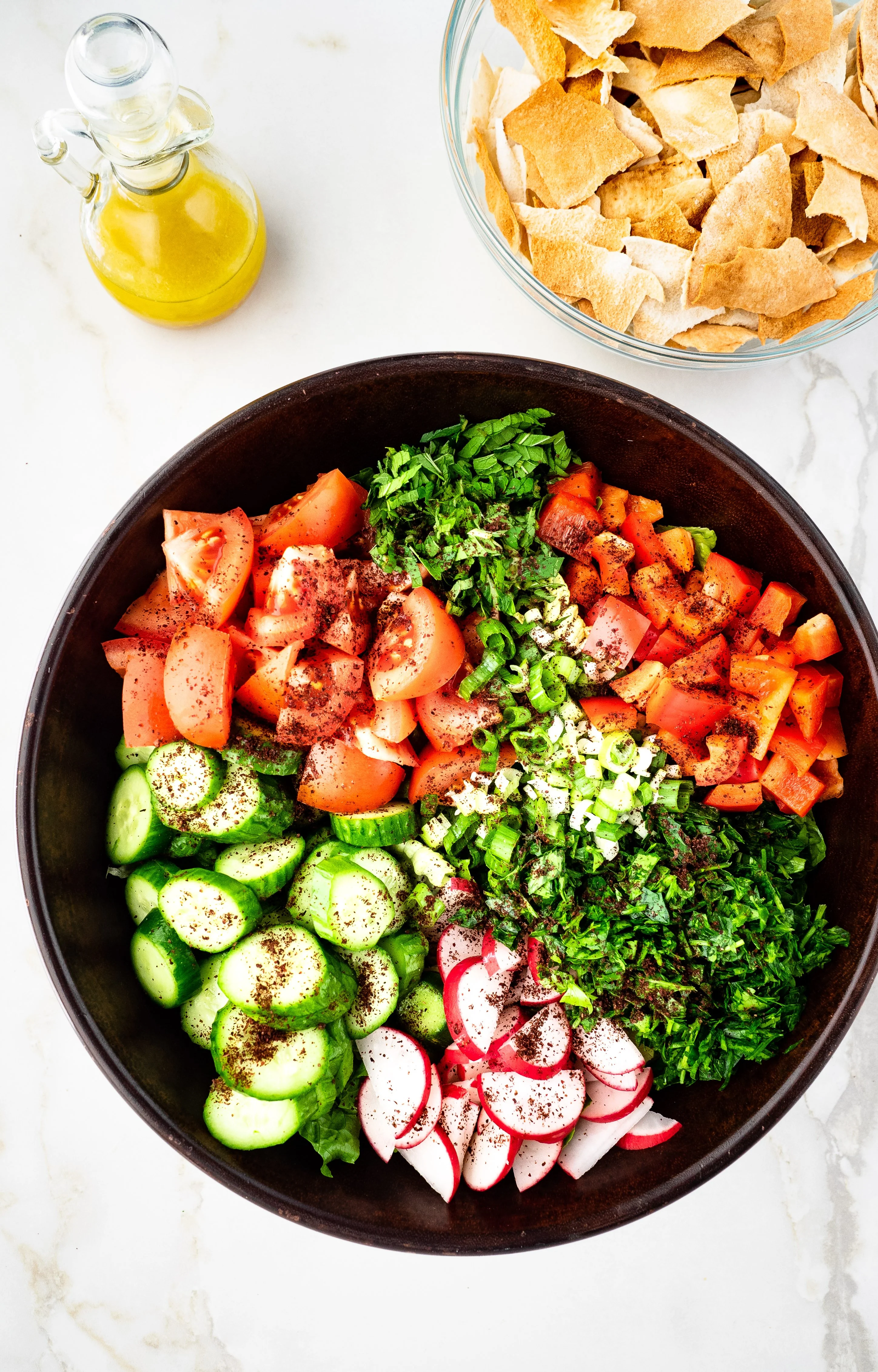 Fattoush is a Middle-Eastern salad made with toasted or fried pieces of pita bread, fresh parsley and mint, and vegetables such as fresh greens, tomatoes, radishes and cucumbers.
It is dressed with a zesty lemon and olive oil dressing. Variations of this bread salad exist throughout the Middle-East.
You will find most recipes for Fattoush call for ground sumac. If you are not familiar with sumac, it is a spice that is made from the berries of a sumac bush. It has a tart peppery flavour that is difficult to substitute.
It can be found in the spice section in Middle-Eastern stores or markets, in well-stocked grocery stores or online. If you're unable to find it you can leave it out.
Jump to:
How to Make it
Variations of Fattoush exist depending on the availability of fresh seasonal produce, so don't hesitate to use different salad greens and different varieties of tomato and cucumber.
Here's an overview of the key ingredients and instructions for making a traditional Fattoush salad. Please see the recipe card at the end of the post for precise amounts and directions.
Ingredients Overview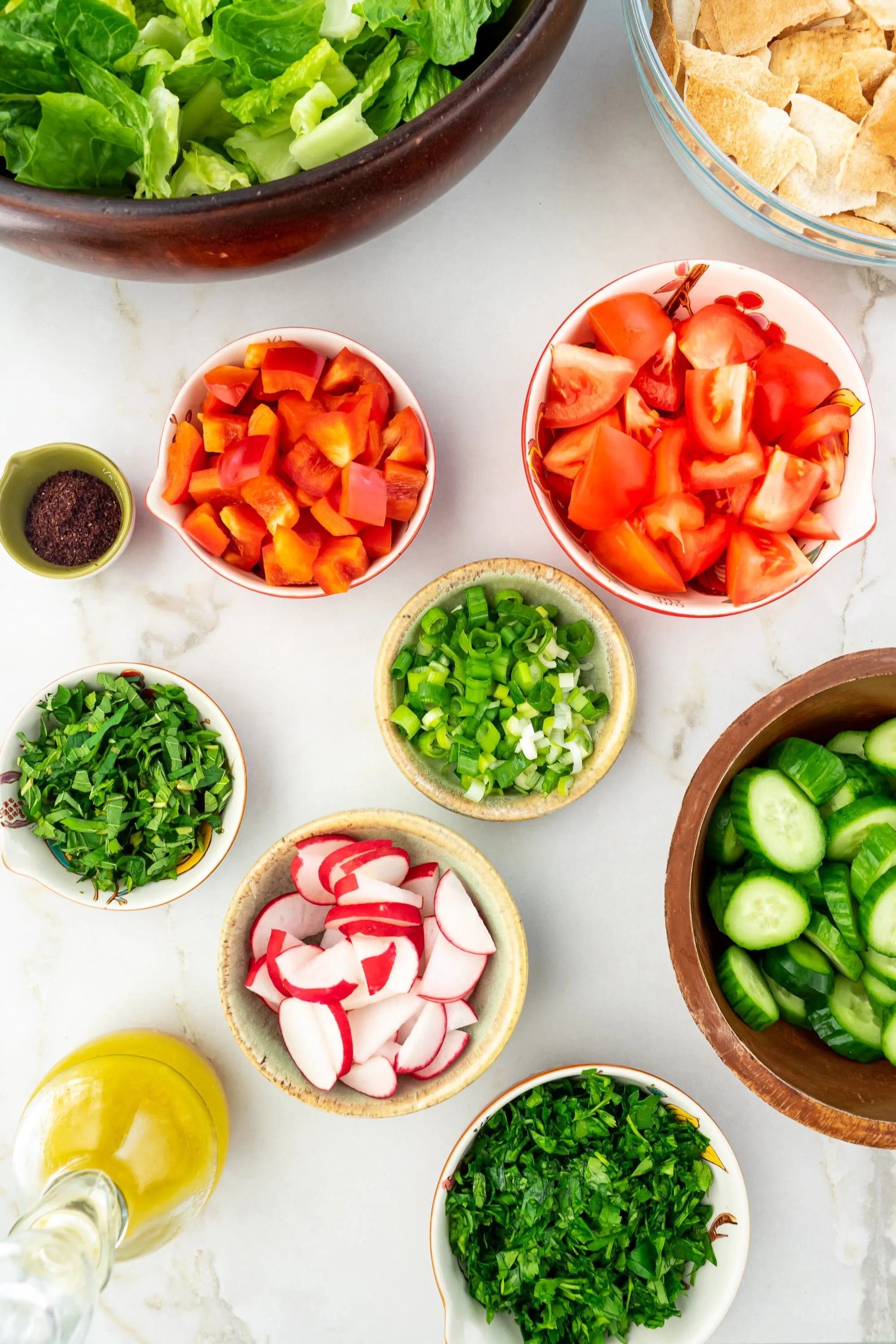 For the salad:
Small pita loaves to make homemade pita chips
Romaine lettuce or mixed greens
Persian or Lebanese cucumbers
Tomatoes: use ripe juicy tomatoes for best flavor.
Bell pepper, one red or green pepper works
Radishes
Fresh parsley: Italian or curly.
Green onions (or scallion)
Fresh mint leaves
Ground sumac: This ingredient is optional.
For the dressing:
Extra-virgin olive oil
Freshly squeezed lemon juice
Red wine vinegar or more lemon juice
Garlic
Salt and pepper
Steps Overview
Start by toasting the pita bread, you can use white or whole wheat pita. I like to split the pita bread so it's only one layer and toast it in the oven using the broiler function. If you want to keep both sides together, you'll have to flip the bread to toast the other side of the loaf. Toast the pita bread until it is golden, let it cool and break it into bite-sized pieces.
While the bread is toasting, wash and dry all the vegetables and herbs and chop the vegetables into bite-size pieces.
To make the tangy dressing, place all of the ingredients in a small jar and give it a good shake. You'll notice I used both freshly squeezed lemon juice and red wine vinegar to make the dressing. I like combining both and find the dressing extra delicious that way, but feel free to use only lemon juice or red wine vinegar, just use the total amount for both in the recipe.
Place all of the salad ingredients in a large bowl, add the sumac (if using) and toasted pita chips and pour the fattoush dressing on. Toss the bread salad and serve immediately!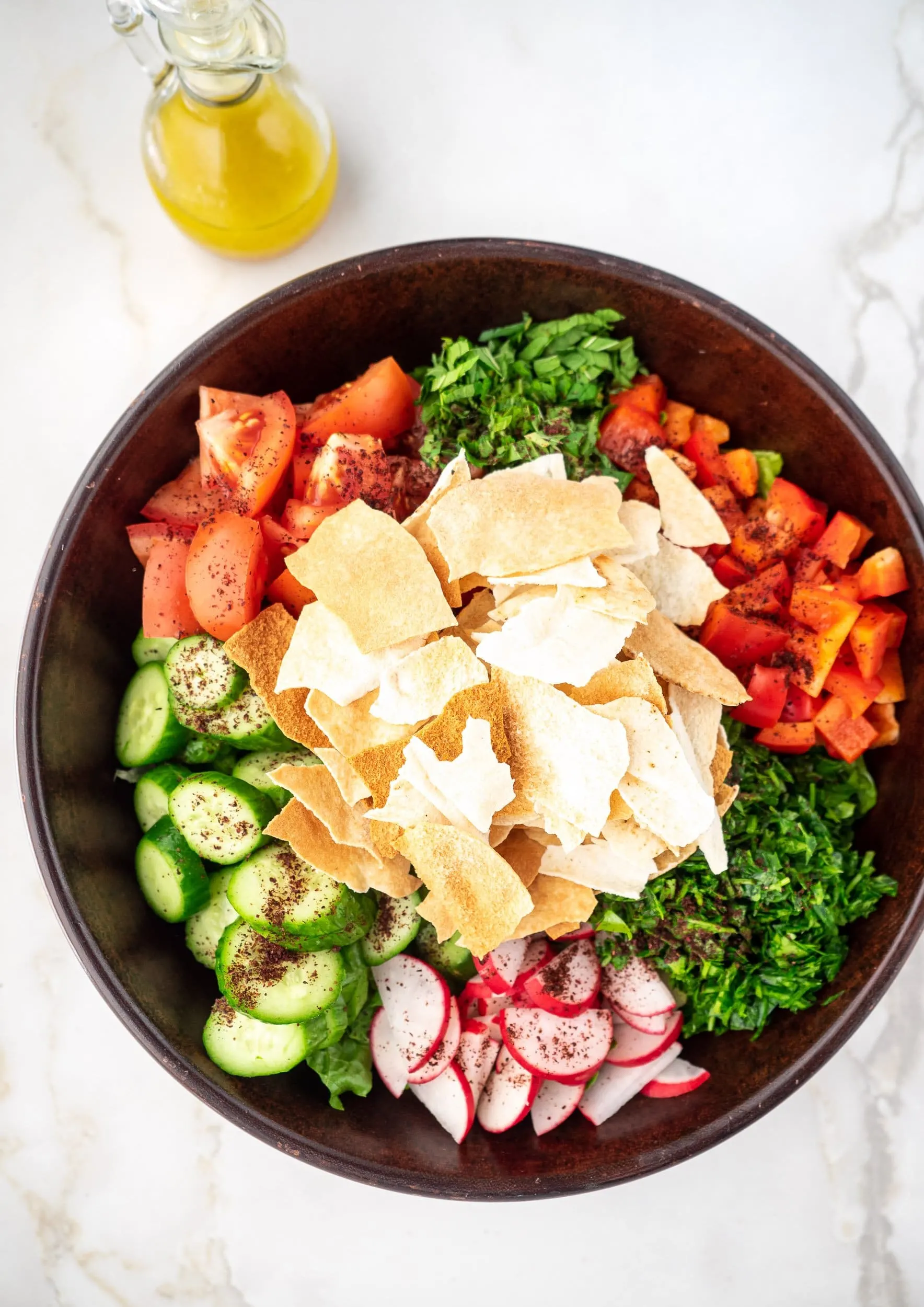 Tips for Making the Best Fattoush Recipe
Use fresh produce. Using fresh vegetables and fresh herbs guarantees a fresher and better tasting salad.
Dry the lettuce and vegetables thoroughly before chopping them. Too much water in your greens will make the lettuce go limp and your bread go soggy quickly.
Since toasted pita chips do soften up when they're tossed into the salad, it's best to add the bread right before tossing and serving.
Use your hands to toss the salad with the dressing. Doing this ensures you coat every ingredient with some of the dressing.
If you don't have fresh mint you can use a bit of dried mint.
If you make this salad in the winter and don't have fresh green onion, just use a bit of red onion or even a small shallot.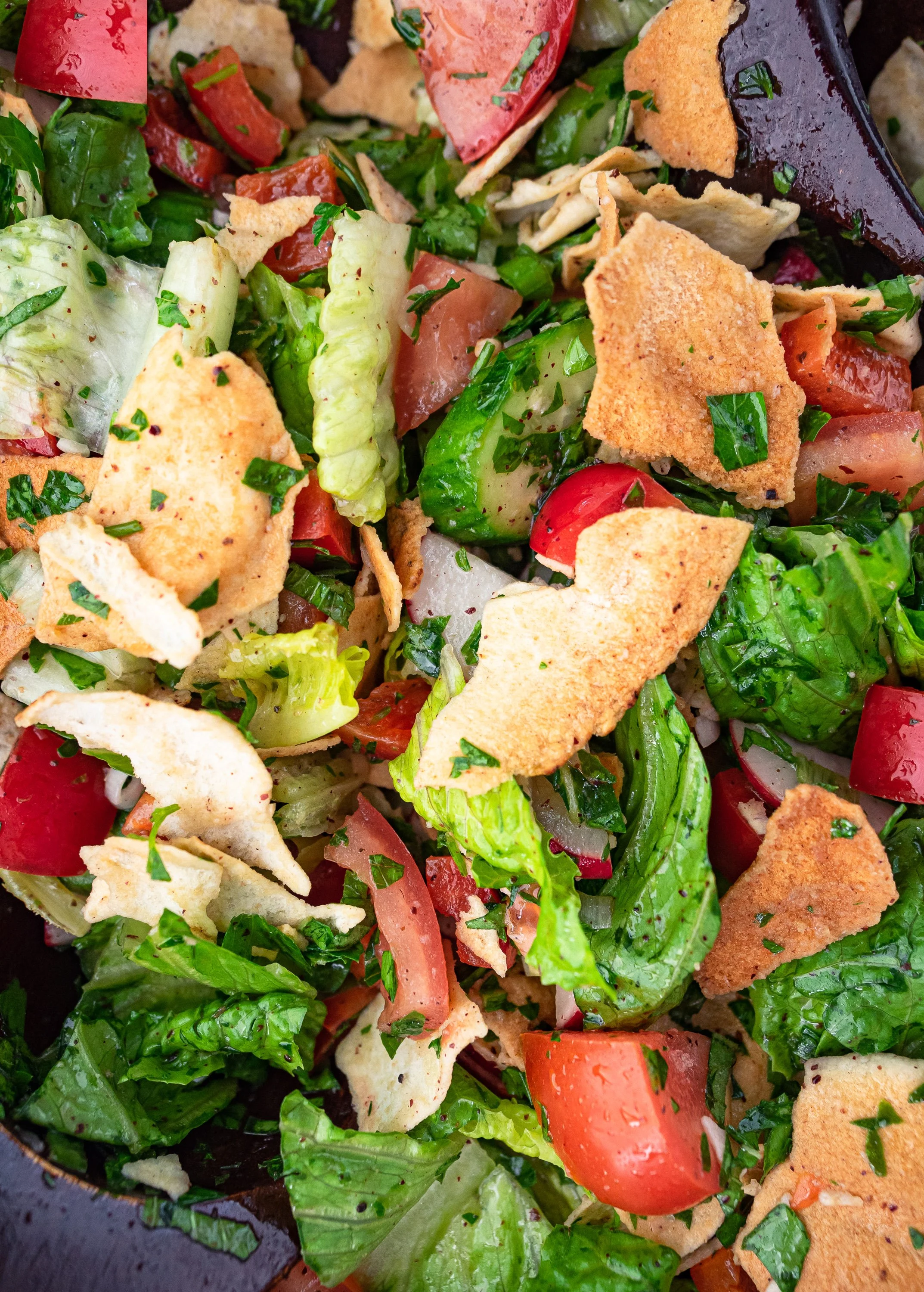 Serving Suggestions
If you want to serve Fattoush as an accompaniment to a main, you could serve it with grilled meats, like these Beef Kafta Kabobs, or lamb chops, fish, and even roast chicken.
This great salad would also pair beautifully with almost any simple dish where the main ingredient is a protein. And of course, it goes wonderfully with other Middle-Eastern dishes like this Caramelized Onion Hummus.
Calories in Fattoush
If you're wondering if this Fattoush salad is waistline-friendly, this recipe has approximately 359 calories in one serving. Though this salad is made with healthy ingredients, it is not suitable for people who are on a low-carb (or keto) diet as a main ingredient is bread.
Enjoy!
More Delicious Salads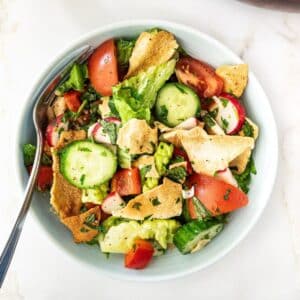 Fattoush Salad Recipe
This easy Lebanese Fattoush Salad is made with simple healthy ingredients, crispy pita chips and a bright zesty dressing. Serve this popular salad in the summer as a side dish or as a light main course.
Ingredients
Fattoush Salad
3

small

pita loaves, split into two disks

toasted until golden brown and broken into small pieces.

1

head

romaine lettuce

chopped

2-3

Persian or Lebanese cucumbers

chopped

2

medium

ripe juicy tomatoes

chopped

½

red pepper

chopped

3

radishes

sliced

½

cup

chopped fresh parsley

italian or curly

1

green onion (or scallion)

sliced thinly

¼

cup

fresh mint leaves

chopped

1

teaspoon

ground sumac

optional
Fattoush Salad Dressing
6

tablespoons

extra-virgin olive oil

3

tablespoons

lemon juice

freshly squeezed

2

tablespoons

red wine vinegar

or more lemon juice

1

medium

garlic clove

grated or minced

½

teaspoon

salt

more to taste

1

pinch

freshly ground black pepper
Instructions
Fattoush Salad
Split the pita loaf into 2 disks. Toast the pita bread in the oven until golden. Remove from oven let cool and break into bite-size pieces.

Wash, dry and chop the lettuce, cucumbers, tomatoes, red pepper, radishes, parsley, green onion and mint leaves.

Place all of the vegetables in a large bowl and sprinkle on the sumac (if using). Top with the toasted pita bread.
Fattoush Dressing
Place all of the Fattoush dressing ingredients in a jar, put the lid on and shake until the dressing has emulsified.
Dress the Fattoush salad
Pour the dressing on the salad and toss. Serve immediately.
Notes
Make sure to dry the lettuce and vegetables thoroughly before chopping them. Too much water in your greens will make the lettuce go limp and your bread go soggy quickly.
For the best Fattoush Salad, toss the salad right before serving. Tossing it early will cause the bread to soften.
One serving of this salad contains approximately 359 calories. Though this salad is very healthy, it is not suitable for people who are on a low-carb (or keto) diet as a main ingredient is bread.
Nutrition
Calories:
359
kcal
Carbohydrates:
35
g
Protein:
7
g
Fat:
22
g
Saturated Fat:
3
g
Sodium:
541
mg
Potassium:
724
mg
Fiber:
6
g
Sugar:
5
g
Vitamin A:
15420
IU
Vitamin C:
51
mg
Calcium:
116
mg
Iron:
3
mg
This post wast originally published in June of 2020. It has been updated. The recipe remains unchanged.