This is an easy healthy recipe for a delicious and authentic Lebanese Tabbouleh salad. Serve this parsley salad on it's own as a light meal or enjoy it as a side dish to grilled meats and fish.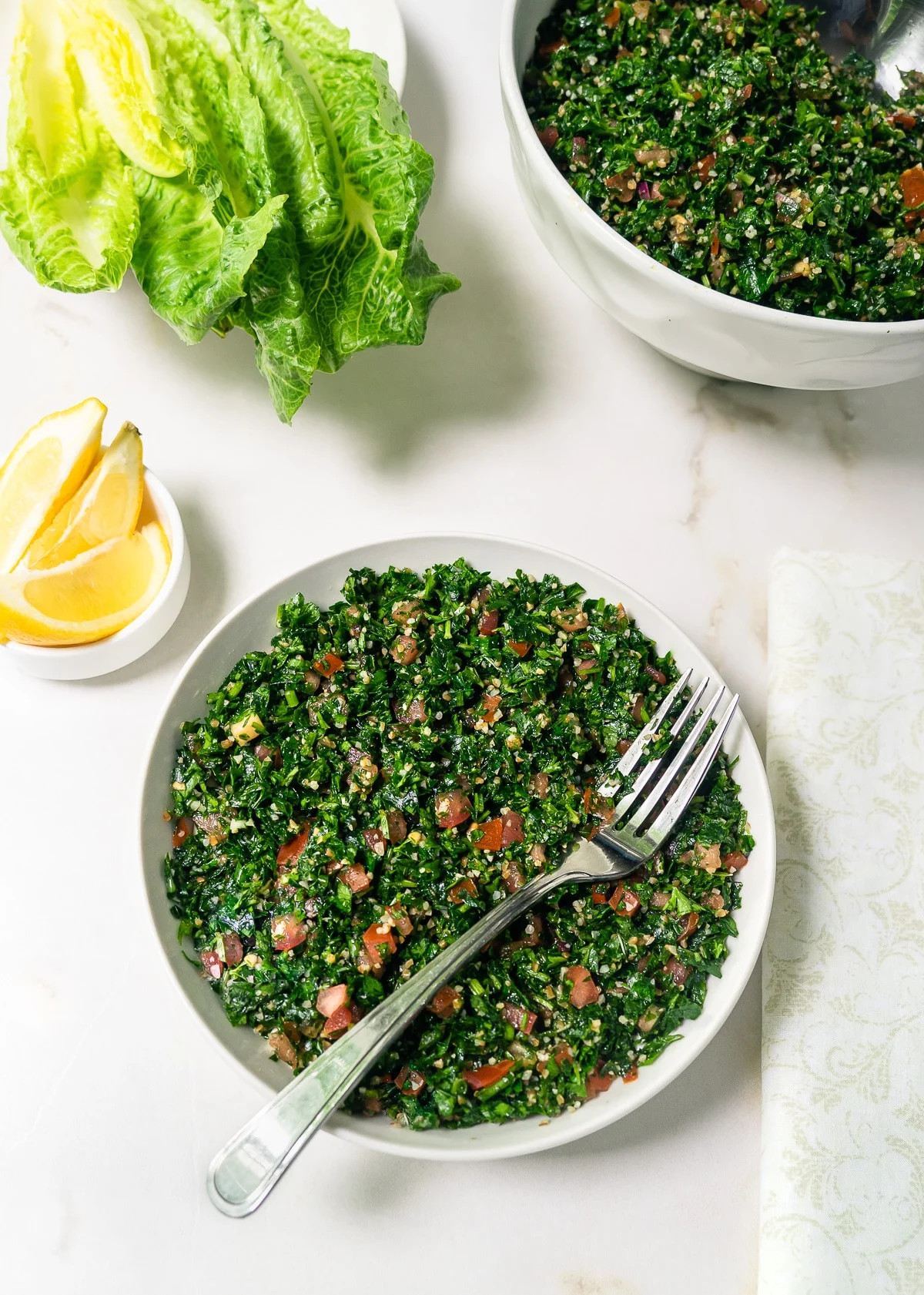 Tabbouleh, also commonly spelled Tabouli, is a classic Lebanese vegetarian dish. It's often served as a side salad or as part of mezze (small dishes served as appetizers).
Its main ingredients are fresh parsley, fine bulgur, fresh tomatoes, scallions and mint. Differences in spices used are found depending on which region in Lebanon you are from.
For instance, many will add a pinch of cinnamon or a seven-spice blend. My family uses salt, pepper and a pinch of cayenne. Tabbouleh is dressed with a simple vinaigrette made with extra-virgin olive oil and freshly squeezed lemon juice.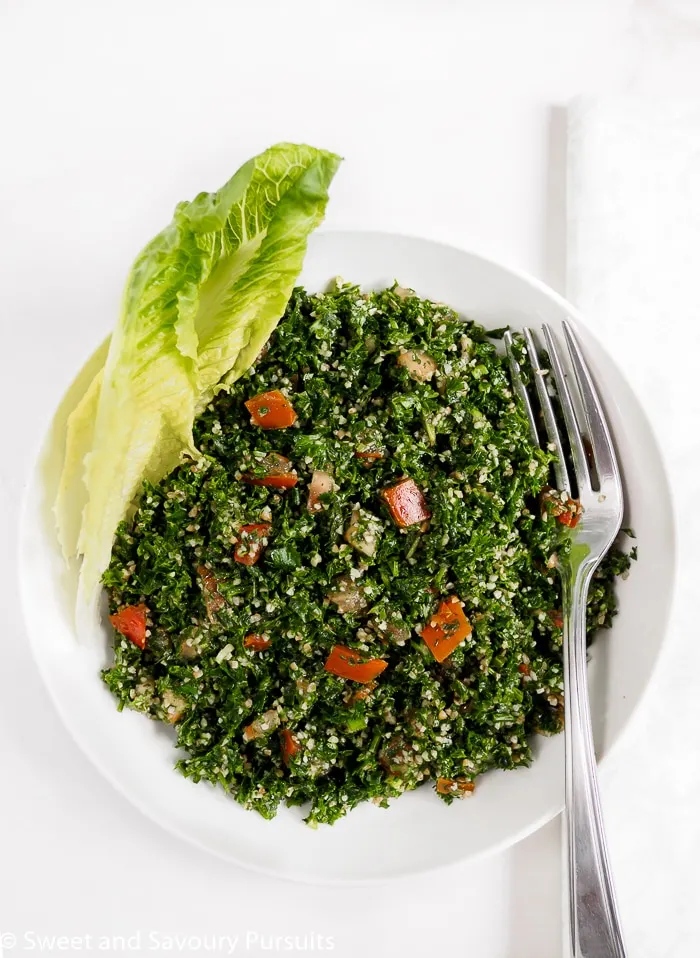 Jump to:
How to Make an Authentic Tabbouleh
Though it is commonly available in most grocery stores and delis, making this parsley salad at home is easy.
Just choose the freshest ingredients and follow my step-by-step instructions to be rewarded with a much fresher and better-tasting Tabbouleh than you can ever buy at a store.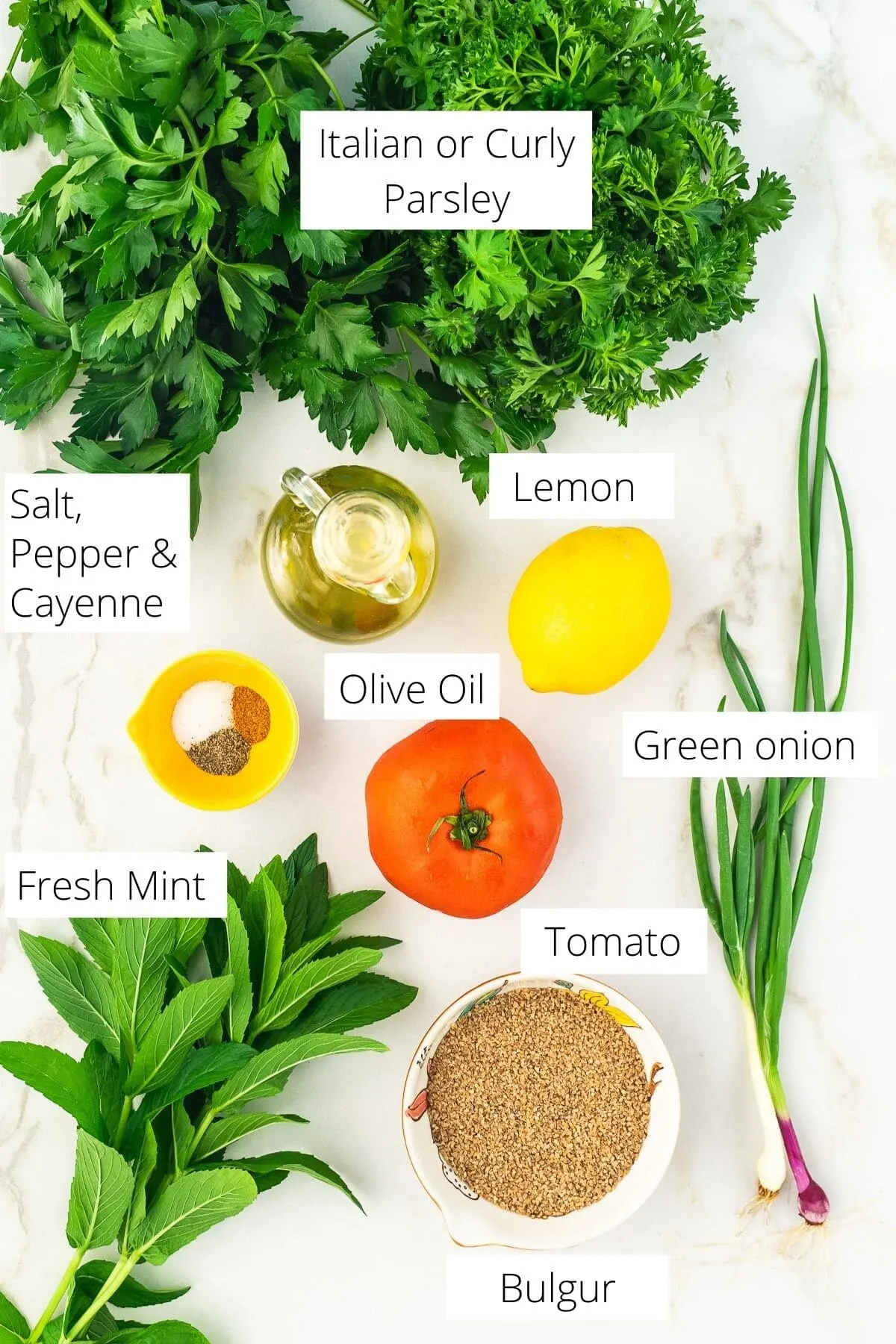 Ingredients Overview
Fresh bundles of parsley. You can choose flat-leaf (also known as Italian) or curly parsley. You can also use both together. Both types of parsley are commonly used, though some will swear that flat-leaf parsley tastes better while others think curly parsley will give you a lighter and fluffier salad.
Fresh mint
Scallions (green onions)
A ripe but firm large tomato
One to two lemons, depending on how juicy your lemons are.
Extra-virgin olive oil
Fine bulgur wheat (cracked wheat), the dark variety if possible. If you can't find fine bulgur in your grocery store, you can find it in Middle-Eastern or health food stores.
Tip: For a grain-free Tabbouleh, simply omit the bulgur from the recipe and reduce the amount of dressing used. Leftover dressing can be stored in the refrigerator and used to dress other salads.
Steps Overview
Pick out wilted or yellowed leaves from the parsley and remove as much of the stems as possible.
Wash the parsley 3 times to ensure the parsley is free of grit. To wash the parsley, fill a basin with water, dunk the parsley in it, swishing it in the water to release the grit and then lift the parsley out. Dump the water out and fill the basin with fresh water again. Add the parsley to the water, swish it again and lift the parsley out. Repeat this step a third time.
Next, dry the parsley. You can let it air dry or if you're in a rush, use a salad spinner. You can also pick and clean the parsley a day ahead of time. Store the dried parsley in a clean plastic bag or an airtight container in the refrigerator.
Chop the parsley. You might be tempted to use a food processor for this task but doing so will over-process the parsley. Instead, sharpen your knife and chop the parsley finely. You shouldn't see full leaves of parsley in your finished salad.
Measure out the fine bulgur and place it in a fine-meshed colander. Rinse the bulgur wheat under cold water. Press it against the colander to drain it well and reserve. Fine bulgur does not need to be cooked.
Finely chop the fresh mint leaves and thinly slice the scallions. Add them to the chopped parsley.
Chop the tomato into a small dice and add it to the remainder of the ingredients.
The last step is to make the lemon and olive oil dressing and add the seasonings. Precise amounts are indicated in the recipe card below.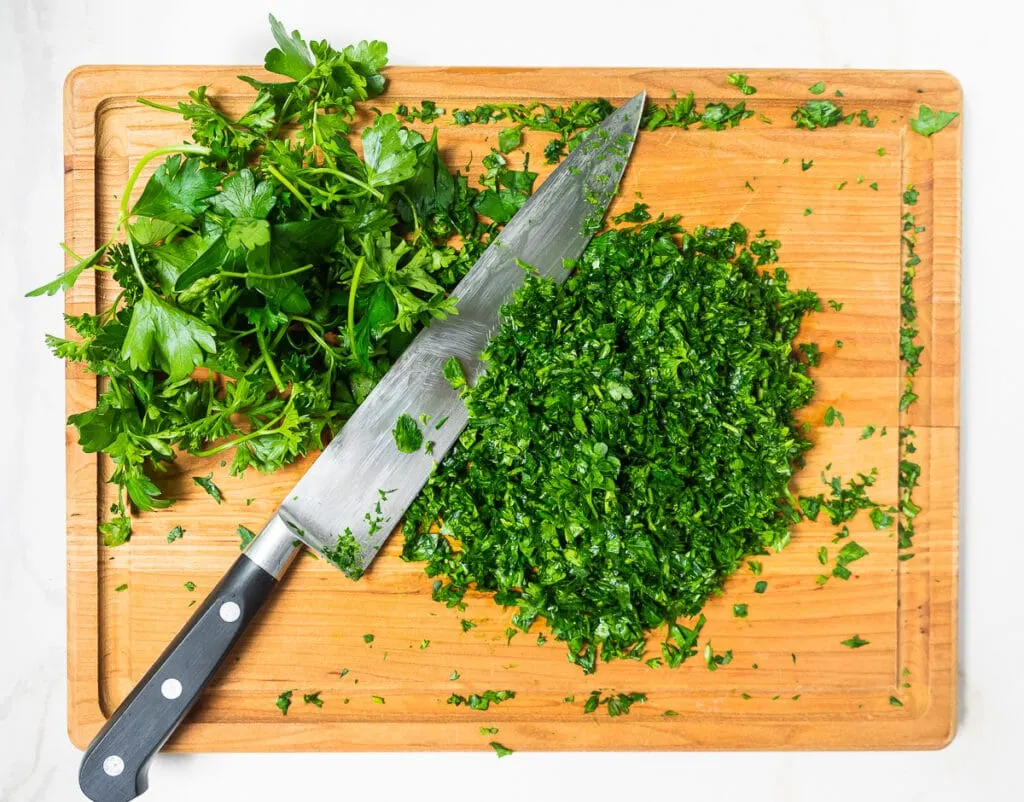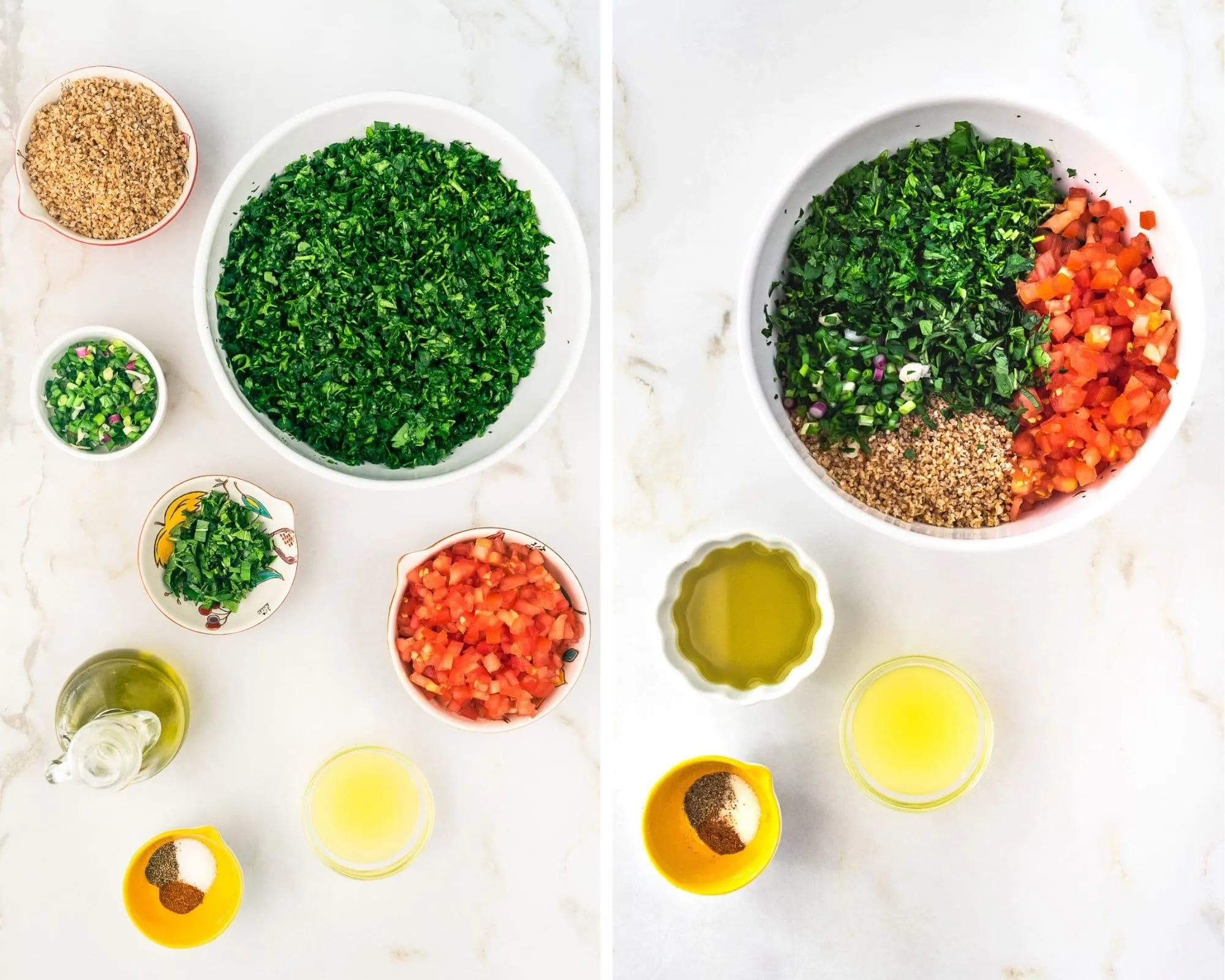 Serving Suggestions
Tabbouleh is best served as soon as possible, it can be served at room temperature or lightly chilled.
This recipe will serve 4 to 5 as a starter or side. It can also be enjoyed as a light lunch and will serve 2 to 3 as the main course.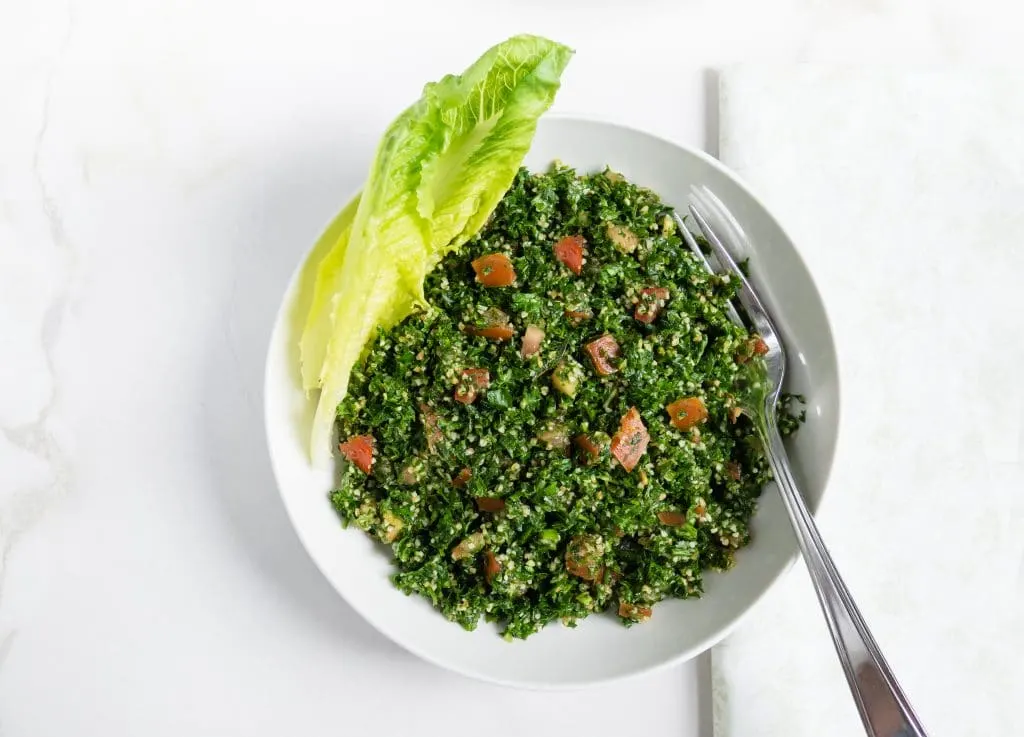 What to Eat with Tabbouleh
This salad makes a great side to Middle-Eastern dishes. It is traditionally eaten with crisp romaine leaves. Stuff the cavity of the leaf with Tabbouleh and enjoy! You can also serve it with grilled Chicken Shawarma Kebabs, Kafta Kebabs, Caramelized Onion Hummus, or with these Dukkah Crusted Lamb Chops. It's also delicious served on the side of this Pistachio Crusted Salmon.
Calories
Tabbouleh is a healthy parsley salad, made with nutritious ingredients and is low in calories. Based on the nutrition calculator that I'm using, one serving (1/4 of the recipe) contains approximately 259 calories.
For Grain-Free, Gluten-Free, Low Carb or Keto Tabbouleh
For gluten-free, low-carb or keto diets, simply omit the bulgur from the recipe but remember to reduce the amount of dressing used.
Though it is not authentic, you could also substitute the bulgur with quinoa for a gluten-free version. If you do so, make sure to cook the quinoa according to package directions and let it cool before combining with the other ingredients.
Storage Instructions
Store leftovers in an airtight container in the refrigerator for up to 3 days. Tabbouleh cannot be frozen.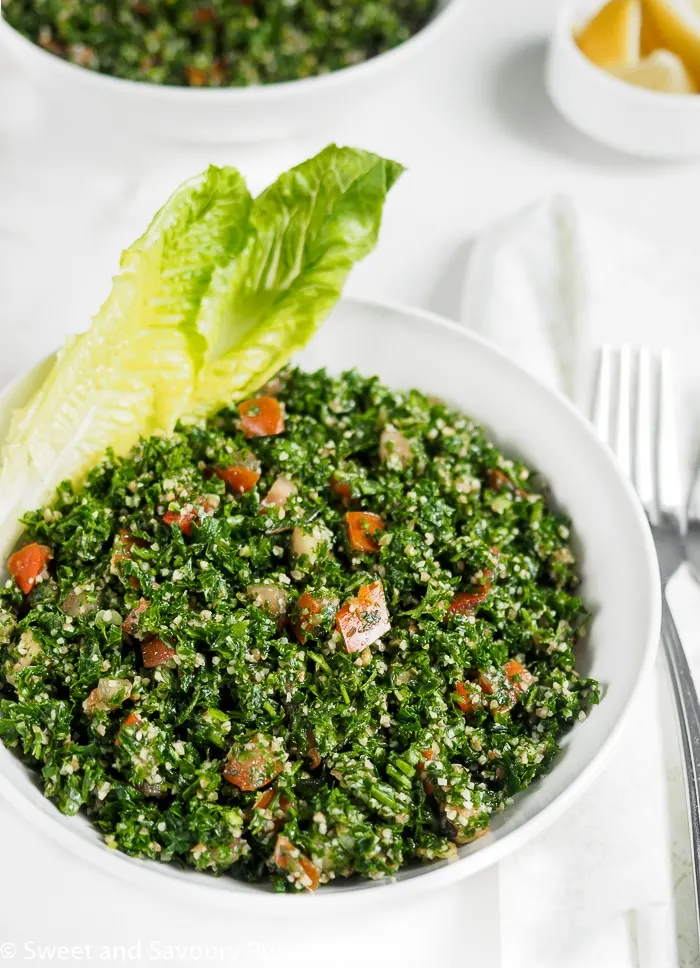 Enjoy!
More Summertime Salads
Lebanese Tabbouleh Recipe
This is an easy healthy recipe for a delicious and authentic Lebanese Tabbouleh salad. Serve this parsley salad on it's own as a light meal or as a side dish to grilled meats.
Ingredients
3

cups

finely chopped parsley

(wash parsley thoroughly several times, dry it well and remove stalks before chopping)

1

tbsp.

finely chopped mint leaves

washed and stems removed

¼

cup

fine bulgur wheat

rinsed and drained

1

cup

diced tomatoes

(approx. 1 medium tomato small dice)

1

scallion (green onion)

trimmed and thinly sliced, (about 2 tablespoons)

4

tbsp.

freshly squeezed lemon juice

or to taste

6

tbsp.

extra virgin olive oil

½

tsp.

sea salt

more to taste

freshly ground black pepper

to taste

Pinch of cayenne

cinnamon or seven spice blend, all optional.
Instructions
Combine parsley, mint, scallions, tomatoes and bulgur in a medium bowl.

Add olive oil, lemon juice, salt and pepper, (and other spices if using) mix well, taste and adjust seasoning to your taste.

Serve immediately or refrigerate if serving later.
Notes
I have found that bunches of parsley can vary considerably in size. Therefore, it is hard to give a precise number of bunches you will need. But for 3 cups of finely chopped parsley, you will need approximately 2 to 3 big bunches.
Parsley can be picked and washed the day before, just dry the parsley before bundling it in a dry towel and then in a plastic bag in the refrigerator.
Fine bulgur wheat does not need to be soaked, just rinsed and drained.
For gluten-free, low-carb or keto diets, simply omit the bulgur from the recipe.
Though not authentic, quinoa can be used in place of bulgur for a gluten-free Tabbouleh salad. Simply cook quinoa according to package directions and let cool before combining with the rest of the ingredients.
Note: Recipe updated to reduce amount of bulgur (prior to soaking) to 1/4 cup.
Nutrition
Calories:
259
kcal
Carbohydrates:
14
g
Protein:
3
g
Fat:
23
g
Saturated Fat:
3
g
Polyunsaturated Fat:
2
g
Monounsaturated Fat:
16
g
Sodium:
274
mg
Potassium:
443
mg
Fiber:
4
g
Sugar:
2
g
Vitamin A:
4050
IU
Vitamin C:
73
mg
Calcium:
96
mg
Iron:
4
mg
This post was originally published on July 15, 2016. It has been updated with new content.