These Yogurt Marinated Chicken Breasts are flavourful, tender and moist. Serve with turmeric-infused basmati rice and a vibrant cilantro sauce for a delicious Indian inspired dinner.
Jump to Recipe
Print Recipe
Disclaimer: This post is sponsored by FoodSaver® Vacuum Sealers. Opinions are 100% my own.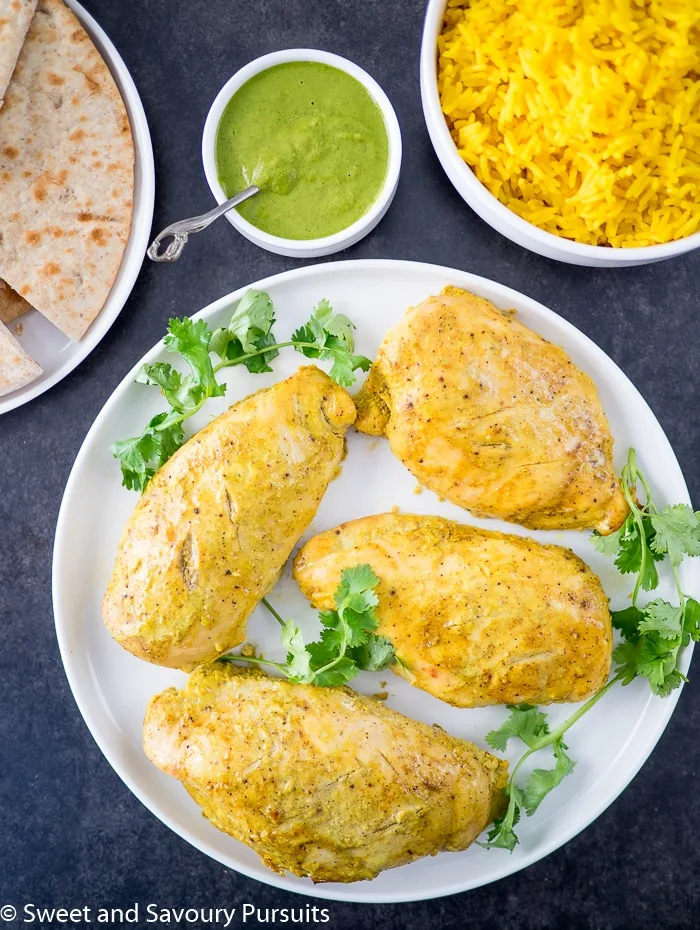 A couple of months ago, I was offered the chance to try out the FoodSaver® Wedge (FFS005) Vacuum System. Since I've always been curious about the FoodSaver® Vacuum Sealing System and I like to buy certain food items in bulk, I thought it would be a great opportunity to see how well it worked.
The FoodSaver® Vacuum Sealer helps to protect your food from freezer burn by prolonging the amount of time you can keep your food in the freezer and helps to keep your food tasting fresh longer.
There are many uses for it, but one of the best uses I found so far, was that I could use the FoodSaver® Vacuum Sealing System to help me save time with meal preparation.
I made these delicious Yogurt Marinated Chicken Breasts a while back, but rather than make just one meal, I doubled the recipe and vacuum sealed half of the raw chicken with the marinade in a FoodSaver® Vacuum Sealer bag.
I then stored it in the freezer so that I could cook it at a later date. I took my yogurt marinated chicken out of the freezer this past weekend, thawed it in the refrigerator overnight and cooked it the next day. The chicken was really delicious, full of flavour and so tender.
Vacuum sealing the chicken in the yogurt marinade worked really well, not only was it really convenient for me since it saved me time in the kitchen but the chicken was extra flavourful from having been in the yogurt marinade.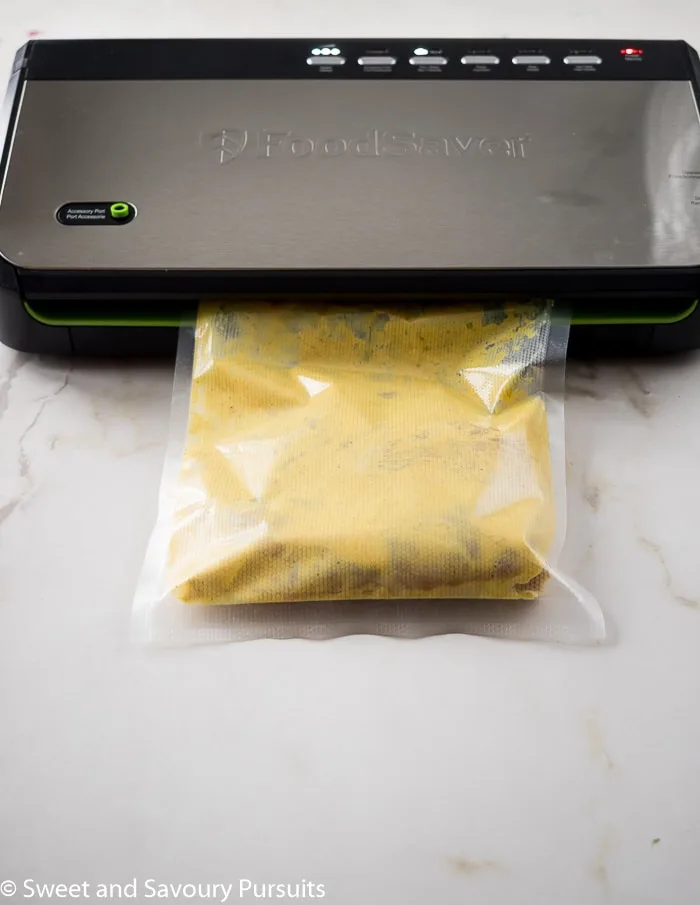 How to Make Indian Chicken Yogurt Marinade
This recipe is perfect if you're looking for an Indian dinner menu idea. The marinade for this chicken is so simple and quick to prepare.
Yogurt is used in the marinade since it's great for tenderizing meats and also acts as a great spice flavor carrier.
Marinade Ingredients Overview:
Plain yogurt
Olive oil
Lemon juice. Freshly squeezed is best.
Garlic cloves
Fresh ginger
Garam masala
Turmeric powder
Cayenne
Salt and pepper to taste
If you are planning on making this dish to eat on the same day, I suggest you marinate the chicken for at least two hours before cooking it.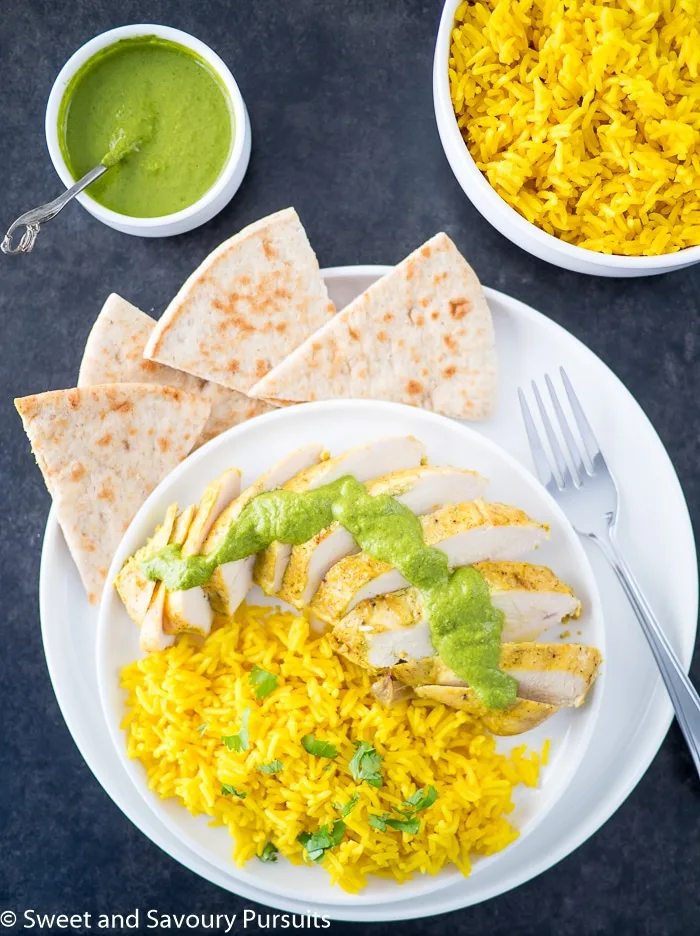 Serving Suggestions
The cilantro sauce makes an excellent accompaniment to this chicken and is so delicious I've been spooning it on fish and beef as well. It takes very little time to make and can be made effortlessly in your blender or food processor.
I also served my chicken with this turmeric-infused basmati rice. Not only does the turmeric give the rice a beautiful golden colour, but it is also an excellent antioxidant so adding it to your rice or other food and drinks is good for you.
You can also serve this Indian flavored chicken dish with Naan bread and a side salad. This Cucumber Yogurt Salad goes particularly well with this dish.
Enjoy!
More Chicken Recipes
Yogurt Marinated Chicken Breasts
These Yogurt Marinated Chicken Breasts are flavourful, tender and moist. Serve with turmeric infused basmati rice and a vibrant cilantro sauce for a delicious dinner.
Ingredients
Yogurt Marinated Chicken
1

cup

Balkan style yogurt

2

tbsp.

olive oil

2

tbsp.

lemon juice

freshly squeezed

2

garlic cloves

minced

2

tsp.

grated fresh ginger

2

tsp.

garam masala

1

tsp.

turmeric powder

1

pinch

cayenne

salt and pepper to taste

4

chicken breasts halves
Turmeric Basmati Rice
1-3/4 to 2

cups

water

1

cup

basmati rice

1

tsp.

turmeric

¾

tsp.

salt

1

tbsp.

butter
Cilantro Sauce, adapted from https://www.splendidtable.org/recipes/cilantro-chutney
1

bunch

cilantro

approx. 2 ounces, washed

5-6

scallions

coarsely chopped

½

jalapeño

seeds removed and coarsely chopped, optional

2

tbsp.

fresh ginger

peeled and coarsely chopped

1

tsp.

ground cumin

1

tsp.

sugar

1

tsp.

salt

3

tbsp.

lemon juice

freshly squeezed

3

tbsp.

extra-virgin olive oil
Instructions
For the Yogurt Marinated Chicken
In a medium bowl, combine yogurt, olive oil, lemon juice, minced garlic cloves, grated ginger, garam masala, turmeric, cayenne, salt and pepper.


Score top of each chicken breast 3 times, about half an inch deep. Toss the chicken in the marinade coating each piece well.


If preparing chicken for freezing, put chicken breasts and marinade in a large FoodSaver® Vacuum Sealer bag. Wipe clean any marinade that might be at the top of the bag before sealing bags with the FoodSaver® Vacuum Sealing System. Follow FoodSaver® Vacuum Sealing System instructions for proper bag sealing.

When ready to cook the chicken, pre-heat oven to 375F. Remove chicken from the marinade and discard the yogurt mixture.


Place chicken onto a baking pan or baking dish and bake for approximately 25 minutes or until chicken is done. It's a good idea to start checking the chicken after 20 minutes. The chicken should be opaque all the way through. If using an instant-read thermometer, insert it into the center of the breast, if it reads at least 165°F, then the chicken breasts are done.

For the Turmeric Basmati Rice
Bring 1-3/4 to 2 cups of water to a boil.


Rinse basmati rice under cold water.


Add butter, turmeric, salt and rice to boiling water, stir and cover pot. Reduce heat and cook according to length of time indicated on package directions.

For the Cilantro Sauce
Add all ingredients except olive oil in blender jar, Blend at medium speed and slowly add olive oil. Blend until smooth.


Sauce can be stored in the refrigerator for up to 3 days.

Notes
If you don't anticipate needing 4 chicken breasts at one time, you can divide the breasts into two FoodSaver® Vacuum Sealer bags. This way, you only cook as much as you need.
Nutrition
Calories:
700
kcal
Carbohydrates:
48
g
Protein:
54
g
Fat:
30
g
Saturated Fat:
7
g
Cholesterol:
160
mg
Sodium:
1137
mg
Potassium:
1172
mg
Fiber:
2
g
Sugar:
5
g
Vitamin A:
540
IU
Vitamin C:
17.1
mg
Calcium:
123
mg
Iron:
3.3
mg