This homemade sugar-free Pineapple Spinach Juice with Ginger is delicious, refreshing and best of all full of nutrients and vitamins!
Jump to Recipe
Print Recipe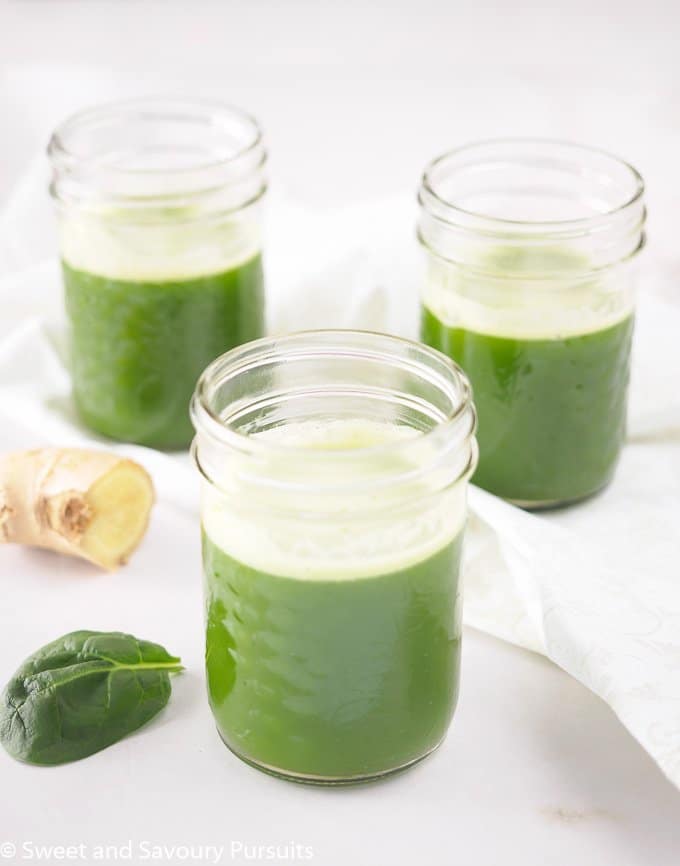 I first tasted green juice when I tried a store-bought kale and pineapple juice. I was hesitant at first since the colour wasn't the most appealing, but I tasted it anyway and found the drink very enjoyable.
Soon after drinking that green juice, I found myself craving it. Instead of picking it up from the grocery store, I decided to take my juicer out and make my own tasty green pineapple juice.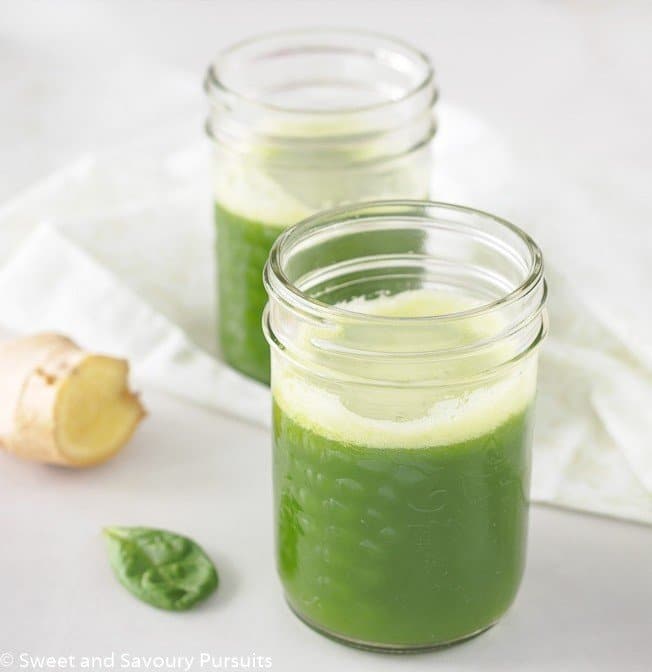 Juicing
Though I'm not a nutritionist, I think that eating your veggies and fruit, with all the fiber in them, is the most beneficial way of consuming fruit and vegetables.
However, I think that juicing is a fun way to try combinations of fresh fruit and veggies that you wouldn't otherwise eat together.
Plus, it's a bonus way to get more nutrients and vitamins into your diet, especially if you can convince your picky kids to give it a try. I still can't believe I got mine to try this spinach juice and admit she liked it!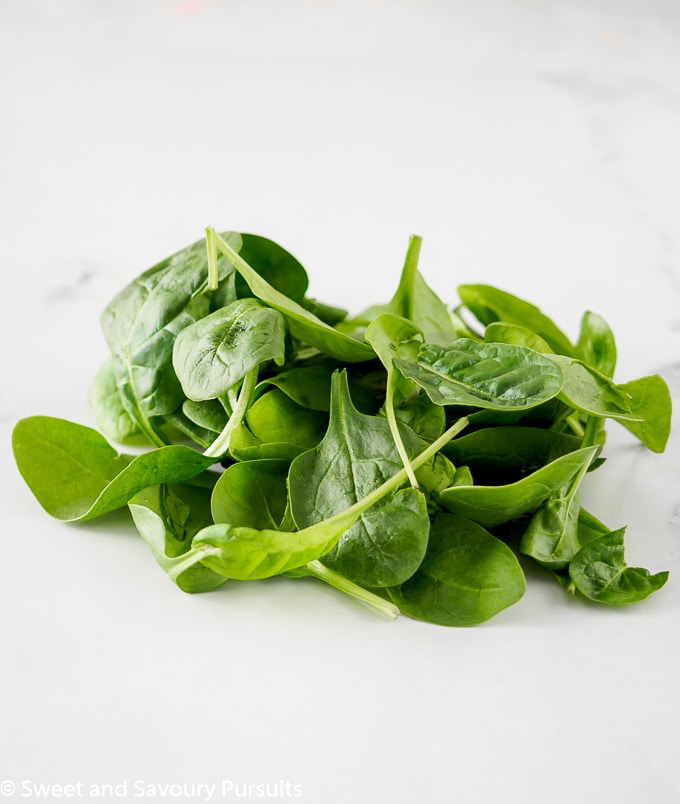 How to Make this Spinach Juice
This juice is made with spinach, but you can use kale if you prefer it, though it will have a stronger taste than spinach. If you want to use kale, I would recommend baby kale since it has a milder taste.
I also use fresh pineapple and apples in this juice. Pineapple is a great fruit to add to your juice, it sweetens the juice naturally so you don't have to add any sugar or other sweetener to the juice. Just make sure to choose a ripe but still firm pineapple.
Though it isn't essential, adding a bit of fresh ginger to the juice makes a real difference. It adds a slight zing to the drink and really compliments the spinach and pineapple in this juice.
There are only four ingredients in this sugar-free juice recipe and it couldn't be any simpler to make. It's best to use the freshest ingredients possible when making juice.
Ingredients Overview:
Pineapple chunks.
Baby spinach. You can also use regular spinach.
Apples. Use what you have on hand. The sweeter the apple the sweeter the juice will be.
Fresh ginger
Steps Overview:
Press the washed spinach, apple, pineapple chunks and ginger through a juice extractor. Stir and serve immediately. You can add ice cubes if you like your drink cold.
Calories:
Assuming you divide the amount of juice into 3 portions, there will be approximately 160 calories in each serving.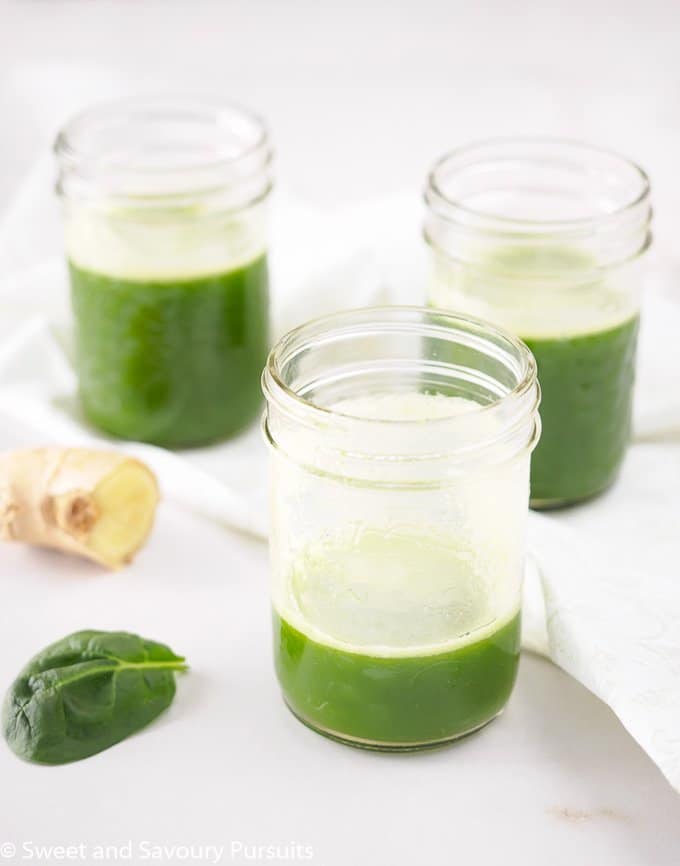 How to Store
If you have any leftover spinach juice it can be refrigerated for up to two days or frozen for longer storage.
If you don't own a juicer but would like to try out a green drink recipe, this Pineapple Spinach Smoothie is very similar to this juice.
Enjoy!
More Fabulous Spinach Recipes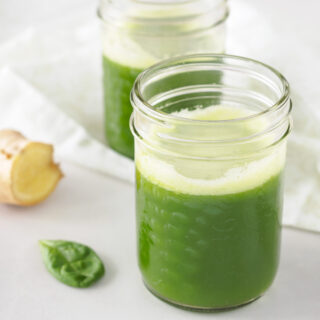 Pineapple Spinach Juice with Ginger
This vibrant Pineapple Spinach Juice with Ginger is delicious, refreshing and best of all full of nutrients and vitamins!
Ingredients
4

cups

pineapple chunks

2

cups

packed washed baby spinach

2

cups

peeled diced apples

1

inch

square piece of ginger

peeled
Instructions
Press the spinach, apple, pineapple and ginger through a juice extractor.

Stir and serve immediately. Store leftovers in the refrigerator for up to 2 days.
Notes
If you prefer a juice with less pulp, you can pass the juice through a fine-mesh sieve before serving.

Leftovers can be stored in the refrigerator for up to 2 days.
Nutrition
Calories:
160
kcal
Carbohydrates:
42
g
Protein:
2
g
Fat:
1
g
Saturated Fat:
1
g
Sodium:
19
mg
Potassium:
441
mg
Fiber:
6
g
Sugar:
30
g
Vitamin A:
2048
IU
Vitamin C:
115
mg
Calcium:
53
mg
Iron:
1
mg
This post was originally published in January 2016. It has been updated. The recipe remains unchanged.
Save