Made with whole grains, dried fruit, nuts and seeds, these homemade Oat, Fruit and Seed Bars make a great breakfast or snack on the go.
Jump to Recipe
Print Recipe
My weekday mornings are usually so rushed that I rarely have time for a sit-down breakfast. So I like to grab something I can eat on the go, but really dislike eating dry granola bars filled with sugar and not so good for you ingredients.
So this weekend, I decided to make a version of granola bars that would be made with wholesome ingredients.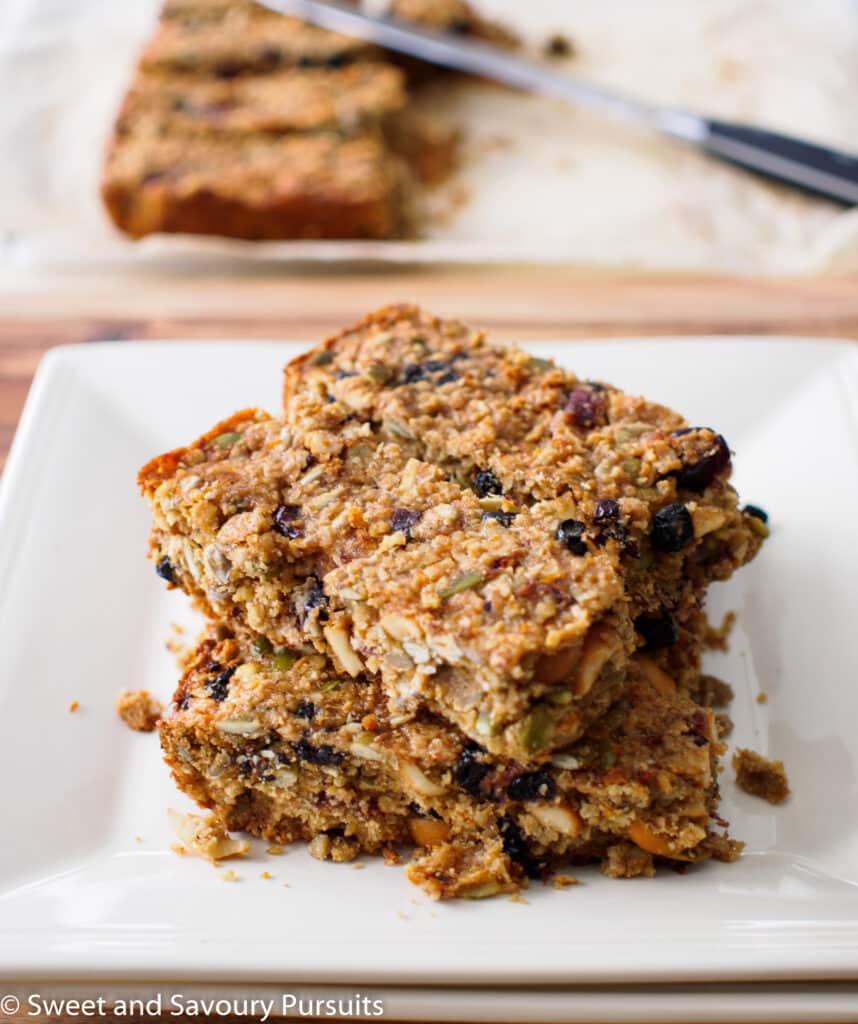 How to Make these Bars
These Oat, Fruit and Seed Bars are filling and simple to make. They're full of nuts, seeds and dried fruit and are not overly sweet.
A well-stocked pantry means that I'm able to find a good variety of dried fruit, seeds and plenty of nuts to choose from. For these bars, I used cashew nuts, pumpkin and sunflower seeds, dried coconut, dried blueberries and cranberries.
You don't have to follow this recipe exactly, you can easily vary the dried fruit and substitute the cashews for another nut.
To create a chewy and tender bar, I added some whole wheat flour and oats to the ingredients. I also grabbed some orange juice so that I can plump up the dried fruit making them moist and infusing them with a refreshing citrus flavour.
The result was a somewhat cakey granola bar. The bars are moist and chewy and dense with fruit, nuts and seeds. The oats and fruit helped make them chewy while the cashews and seeds gave these bars some added crunchiness.
The bars can be individually wrapped so they are portable for a quick and easy breakfast on the go or an afternoon energy-boosting snack.
For another great portable breakfast, take a look at these Whole Wheat Apricot and Almond Bars.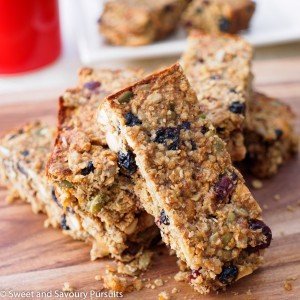 Oat, Fruit and Seed Bars
Sweet and Savoury Pursuits
Made with whole grains, dried fruit, nuts and seeds, these homemade Oat, Fruit and Seed Bars make a great breakfast or snack on the go.
Ingredients
3/4

cup

pure orange juice

not from concentrate

1/2

cup

dried blueberries

1/2

cup

dried cranberries

1/2

cup

whole wheat pastry flour

1

cup

quick-cooking oats

2

tbsp.

wheat germ

1/4

tsp.

baking soda

1/4

tsp.

baking powder

1/4

tsp.

salt

1/3

cup

unsalted butter

room temperature

1/3

cup

brown sugar

packed

1

large egg

1/4

cup

honey

1/2

tsp.

pure vanilla extract

2

tsp.

orange zest

loosely packed

1

cup

cashews

toasted and coarsely chopped

1/2

cup

shredded unsweetened coconut

toasted

1/2

cup

pumpkin seeds

toasted

1/2

cup

sunflower seeds

toasted
Instructions
Place a rack in the centre of your oven and preheat oven to 325ºF.

Line a 9×9-in baking pan with parchment paper and lightly butter the paper.

In a small saucepan, bring the orange juice to a boil. When juice is boiling add the dried blueberries and cranberries, lower the heat to medium high and simmer for one minute. Turn off the heat and let sit for a couple of minutes.

Strain the juice from the berries and set the juice and the berries aside to cool.

In the bowl of your mixer, combine the butter and sugar and beat on medium speed until smooth, about 2 minutes.

Add egg, and beat until well mixed, making sure to scrape the bottom of the bowl at least once.

Add the honey, strained orange juice, vanilla extract and orange zest, beating until smooth. Beat in oats, flour, wheat germ, salt, baking powder and soda mixture. Mix until just combined and then add all of the fruit and nuts. Stir until thoroughly mixed.

Spread the mixture, pressing down to even it out into the prepared pan, and bake for approximately 30 to 35 minutes, until top is golden brown.

Let cool in the pan on a wire rack. When completely cool, using the ends of the paper liner, lift out of the pan and transfer onto a cutting board.

Cut bars into desired size and store in an airtight container.
Notes
Toasting nuts and seeds will add to the texture and the flavour of your baked goods. You can toast them in a 350ºF oven for about 10 minutes or until they are fragrant, let cool and use as directed.
Using parchment paper to line the baking pan and leaving an overhang on opposite ends makes it easier to lift the bars out of the pan for cutting into even portions.
Nutrition info is for one bar, assuming the pan is split into 16 equal portions.
Nutrition
Calories:
235
kcal
Carbohydrates:
26
g
Protein:
5
g
Fat:
13
g
Saturated Fat:
5
g
Cholesterol:
20
mg
Sodium:
68
mg
Potassium:
232
mg
Fiber:
3
g
Sugar:
15
g
Vitamin A:
220
IU
Vitamin C:
6.7
mg
Calcium:
36
mg
Iron:
2.4
mg
Keyword
Fruit and Seed Bars, Oat, Fruit and Seed Bars
SaveSaveSaveSaveSaveSaveSave