Last Updated:
If you are going to make biscotti for the holiday season, let this Pistachio and Cranberry Biscotti be the one! It's the best holiday biscotti!
Jump to Recipe
Print Recipe
This recipe for Pistachio and Cranberry Biscotti was originally published in December 2014. Here's an updated the post, recipe remains the same.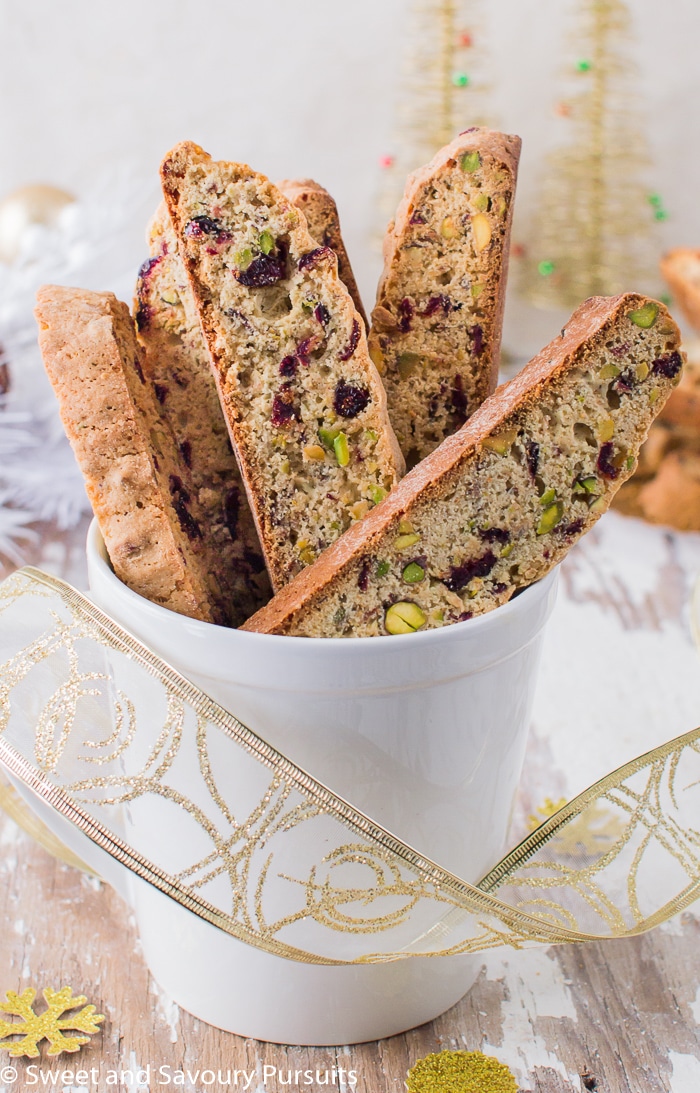 This Pistachio and Cranberry Biscotti recipe is a holiday family favourite, not only is it beautifully speckled with green and red but it tastes absolutely delicious. What makes this biscotti recipe a winner is that it's full of crunch without being overly hard, the cookies aren't dry and remain slightly tender in the middle.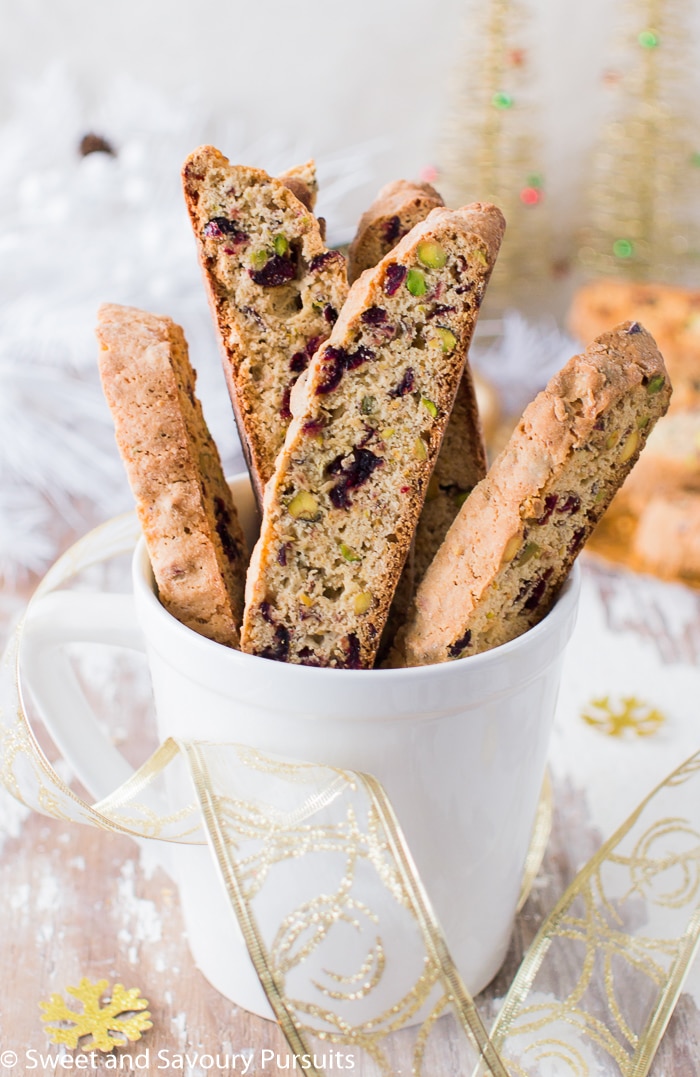 What is a Biscotti
Biscotti is an Italian cookie which is baked twice, this gives it a crunchy texture and makes it excellent for dunking into coffee or tea. Biscotti are made using a variety of dried fruit and nuts, are often perfumed with the zest of various citrus and can be coated with melted chocolate. With all these options available, you could easily adapt a biscotti recipe to suit your preferences and create all sorts of delicious biscotti. In fact, I adapted this Pistachio and Cranberry Biscotti recipe to make both this Hazelnut Chocolate Biscotti and this Apricot and Almond Biscotti with White Chocolate Drizzle.

How to make Pistachio and Cranberry Biscotti
The original recipe for this particular biscotti is from America's Test Kitchen. It called for dried cherries, but I used dried cranberries instead. I also added orange zest and doubled the quantity of ingredients since I wanted to make enough to give away as presents. To make this biscotti, you need to start by making the dough. Once the dough is prepared, you must divide it and shape it into logs. Place the logs on a baking sheet, keeping them well spaced apart and bake the logs for approximately 25 to 30 minutes, rotating the baking sheet halfway through the baking time for even cooking. Remove them from the oven, let them cool slightly and slice the logs on the diagonal before baking them a second time, flipping them over halfway through the baking time again so that both sides are evenly golden.
I hope you find this biscotti as delicious as I do. By the way, this Pistachio and Cranberry Biscotti would make a wonderful hostess gift. Enjoy!
Pistachio and Cranberry Biscotti
If you are going to make biscotti for the holiday season, let this Pistachio and Cranberry Biscotti be the one! It's the best holiday biscotti!
Ingredients
4

cups

all-purpose flour

2

cups

granulated sugar

2

teaspoons

baking powder

1/2

teaspoon

salt

2

cups

dried cranberries

2

teaspoons

orange zest

4

tablespoons

freshly squeezed orange juice

8

tablespoons

unsalted butter

softened

4

large eggs

room temperature

1

teaspoon

pure vanilla extract

1.5

cups

shelled pistachios

toasted and chopped coarsely
Instructions
With the rack in the middle position, preheat the oven to 350°F.

Line two baking sheets with parchment paper and set aside.

Remove enough zest from one large orange to make 2 teaspoons, set aside.

Squeeze the orange to obtain 4 teaspoons of orange juice. In a microwaveable bowl, combine the cranberries with the orange juice and microwave for about 45 seconds. Set aside.

In a medium bowl, whisk together the flour, 1 cup of sugar, baking powder and salt. Set aside.

In the bowl of your stand mixer (fitted with the paddle attachment), beat the butter and orange zest with the remaining cup of sugar for about 3 minutes on medium speed until butter is fluffy.

Add the vanilla, then the eggs, one at a time beating after each egg.

Reduce mixer speed to low and add the dry ingredients, mix on low to combine and then and add the cranberries and pistachios and mix until the ingredients are incorporated into the batter, do not over beat.

Divide the dough into 4 parts.

Turn the dough out onto a lightly floured surface and using your hands shape the dough into logs. Pat the dough so it's about two inches wide.

Place logs onto lined baking sheet, spacing them 3 inches apart, you may need to use two baking sheets unless you own a very large sheet.

Bake for 14 minutes, rotate the tray and bake for another 14 minutes or until logs are light golden brown and beginning to crack on top.

Remove from the oven and let cool on sheet for 10 to 15 minutes.

Lower the oven temperature to 325°F.

Place one biscotti log at a time onto a cutting board and using a sharp serrated knife, slice the logs on a diagonal into 1/2 to 3/4-inch-thick slices.

Return the sliced biscotti, cut side down on the baking sheet and bake for 7 to 8 minutes or until pale golden, flip the biscotti and bake for approximately 7 minutes more.

Transfer the biscotti onto a rack and let cool completely before serving or storing in an airtight container.
Nutrition
Calories:
98
kcal
Carbohydrates:
16
g
Protein:
1
g
Fat:
3
g
Saturated Fat:
1
g
Cholesterol:
14
mg
Sodium:
19
mg
Potassium:
60
mg
Sugar:
9
g
Vitamin A:
75
IU
Vitamin C:
0.8
mg
Calcium:
13
mg
Iron:
0.6
mg
Tried this recipe? Have any questions, comments or suggestions? Leave a comment below!
Let us know how it was!
Save
Save
Save
Save
Save
Save
Save
Save
Save
Save
Save