These made from scratch, Gluten-Free Almond Flour Brownies are easy to make, have a rich chocolate taste, and are incredibly moist and fudgy. They are so delicious everyone will be asking you for the recipe!
I just love desserts made with almond flour. I have a few dessert recipes where I've combined regular flour (all-purpose flour) with almond flour, and the results have been amazing. You can see how I used both flours in this Cherry Almond Cake, in these Mini Matcha and Almond Bundt Cakes and in these Chewy Almond Marzipan Bars.
However, these brownies are made using only finely ground almond flour so for those of you watching your gluten intake, you'll be happy to know that these brownies, just like these Amaretti Cookies and these Chocolate Amaretti Cookies, are grain and gluten-free.
These have to be the most decadent, fudgiest, ultra-moist homemade brownies I've ever baked! They are dangerously delicious and self-control will come in handy when resisting a second or third piece 😉.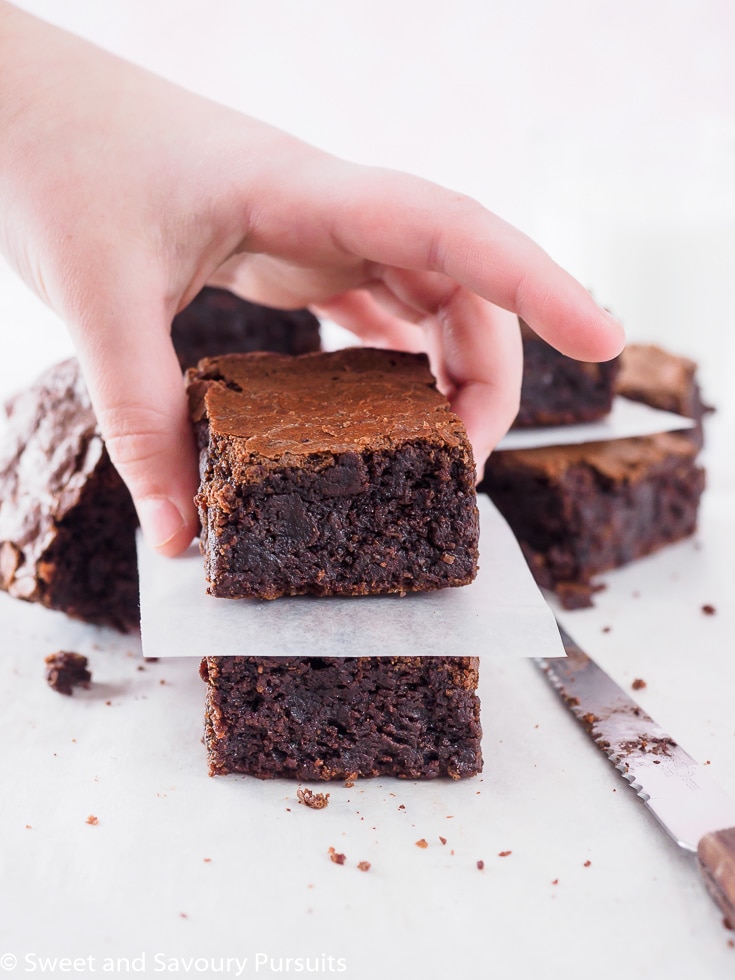 This easy recipe yields moist, dense and fudgy brownies that are much better tasting than pre-mixed boxed versions. Though you'll find several delicious brownie recipes on this site, this is the only one which is gluten-free. I adapted this recipe from this brownie recipe over at Food and Wine.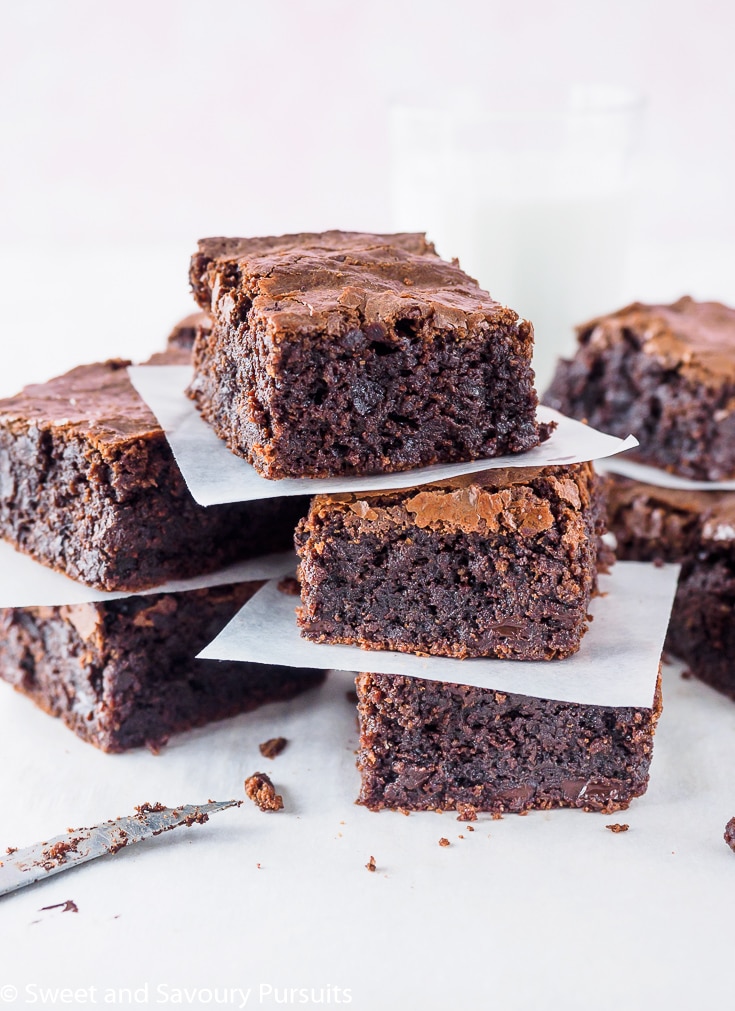 Almond Flour Brownies
Though these brownies are made with almond flour, the taste of almonds is barely noticeable. If you want almond flavoured brownies, you'll have to add almond extract (a little goes a long way).
A superfine blanched almond flour was used for this recipe to replicate the texture of brownies made with wheat flour.
These brownies are not meant to be low carb or suitable for keto diets. They contain granulated sugar, regular semi-sweet chocolate chips and chocolate bars.
However, you may be able to make these brownies if you are familiar with using alternative sweeteners (monk fruit), and have some stevia-sweetened (or other) chocolate chips. If you do try it, I would love to know how it went in the comments below.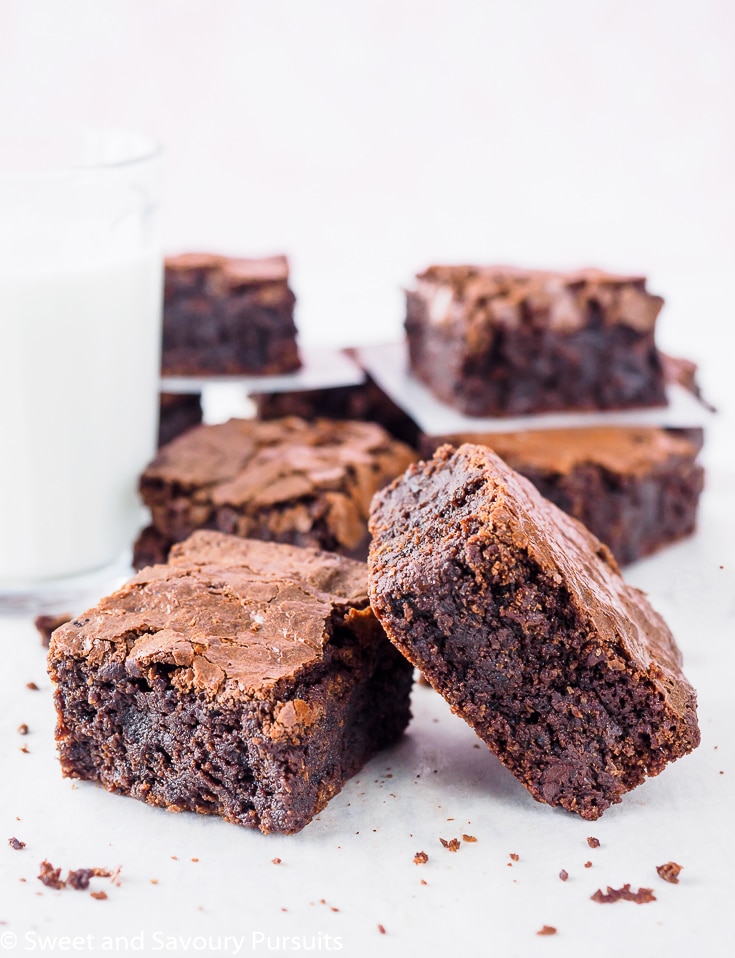 How to make these Brownies
Making gluten-free, homemade almond flour brownies from scratch isn't any different than making regular brownies. We're essentially repeating the same steps, but replacing the all-purpose flour with almond flour.
I used an 8 by 8 baking pan for these brownies but you can also use a 9 by 9 baking dish. If you do, you'll want to reduce the baking time by a couple of minutes since the size of your pan will affect how quickly the chocolate brownies bake. A larger pan will yield thinner brownies that will bake slightly faster.
To make it easier to lift the brownies out of the pan, grease your baking pan and line it with parchment paper, leaving an overhang on two opposite sides.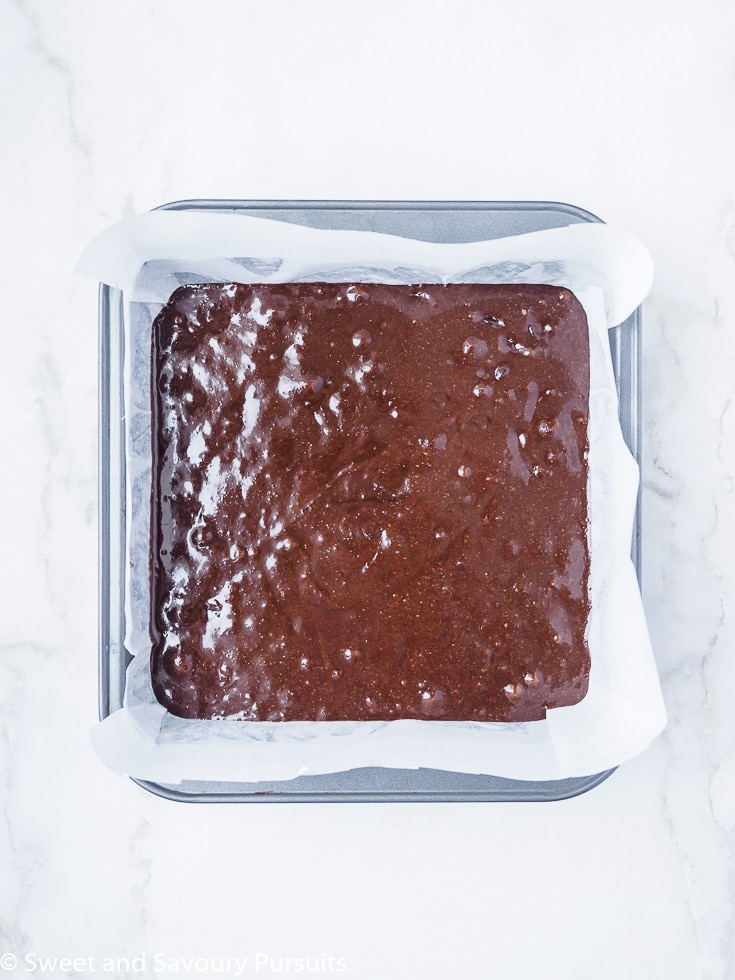 Making gluten-free brownies from scratch is easy when you have a recipe that uses simple ingredients. There are ten in this recipe, all of which you may already have in a well-stocked baking pantry.
Here's an overview of the ingredients you'll need. Please see the recipe card at the end of the post for ingredient amounts.
Ingredients Overview:
Semi-sweet baking chocolate bars (you could also use semi-sweet chocolate chips)
Dutch-processed unsweetened cocoa powder (regular will also work)
Dark chocolate chips. Semi-sweet regular-sized or mini chocolate chips (you can also use milk chocolate chips for sweeter brownies).
Finely ground almond flour
Baking powder and sea salt
Unsalted butter. Coconut oil can also be used.
Granulated white sugar. I have not tried coconut sugar, but I suspect it can be used in this recipe. If you do try it please let me know in the comments!
Large eggs
Vanilla extract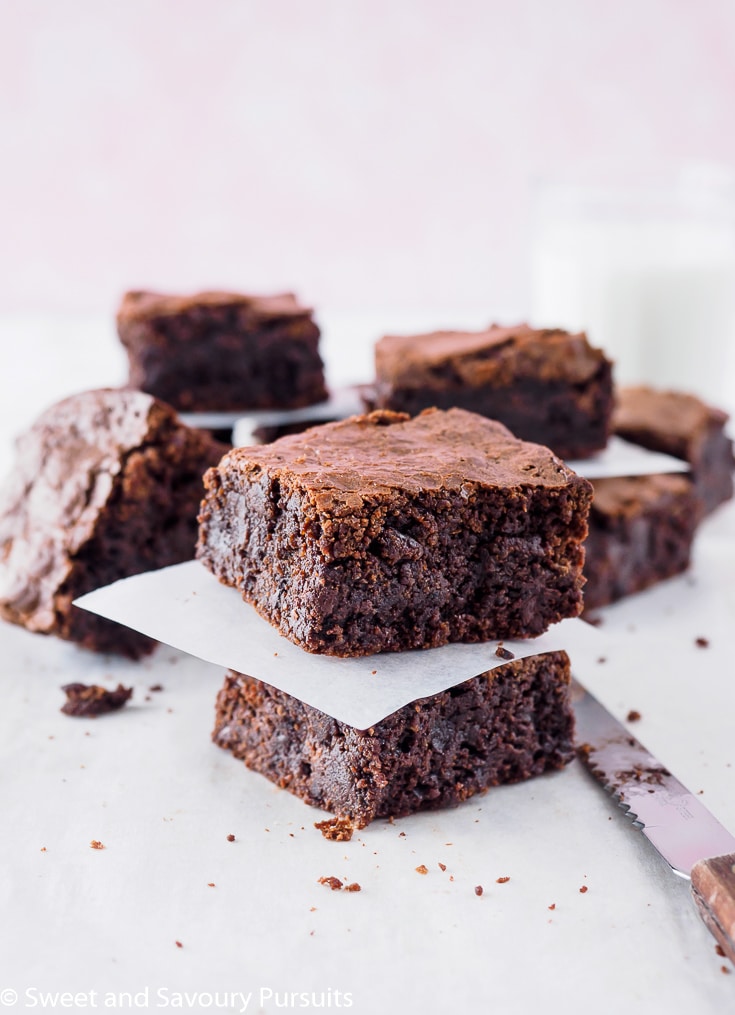 How to Bake Chewy Brownies
You'll need to bake these brownies for 30 minutes, give or take a couple of minutes, for what I consider the perfect chewy brownie texture. Below is a picture of a batch of brownies that I baked for about 26 minutes. They were incredibly gooey and very much like molten brownies.
But since I prefer my brownies a bit more set, I baked another batch. I took them out at 30 minutes and let them cool for at least an hour before slicing. Those are the ones pictured throughout this post. I found 30 minutes to be the optimum cooking time for fudgy and moist brownies.
Since all ovens are different, I recommend checking the middle of the brownies (since the edges bake faster) with a toothpick at 26 minutes the first time you make them. There should still be crumbs and melted chocolate on the toothpick. If the toothpick comes out clean, your brownies will still be delicious tasting but not as soft and gooey in texture.
For extra gooey, molten like brownies, remove them from the oven at no more than 28 minutes.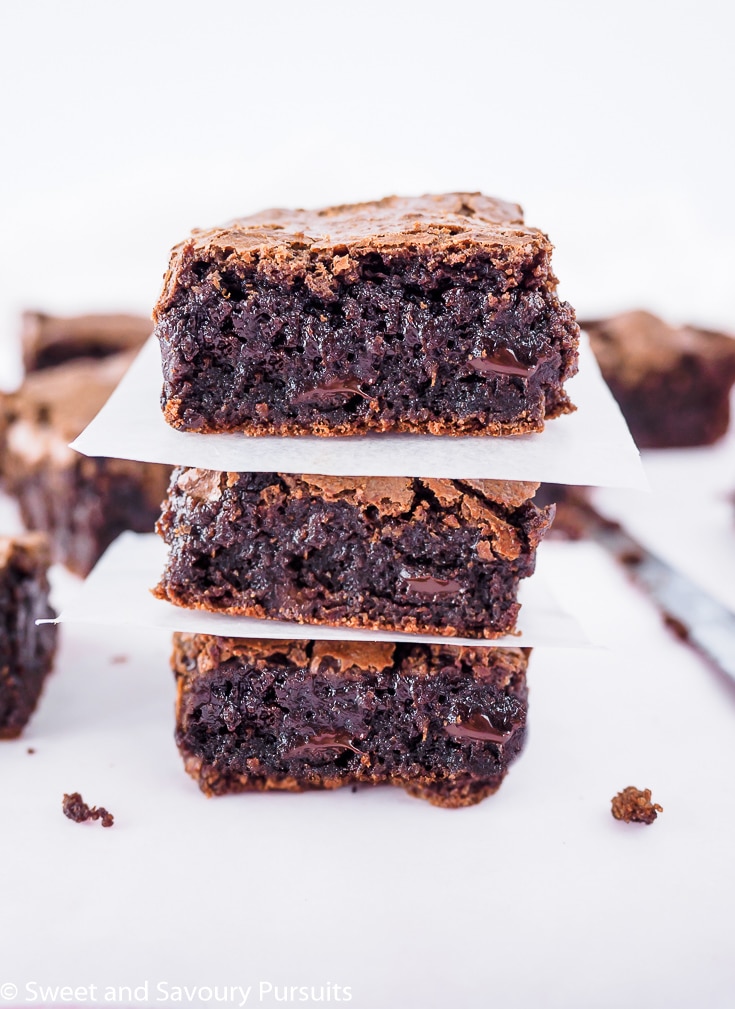 Serving Suggestions
You can serve these delicious almond flour brownies at room temperature or slightly warm with a scoop of vanilla ice cream for an extra decadent chocolate treat.
Storage Instructions
Leftover brownies can be stored on the counter or refrigerated for up to five days.
Brownies can also be frozen in an airtight container for up to 3 months. Thaw brownies overnight in the refrigerator. Warm slightly in the oven for a freshly baked taste.
Enjoy!
More Irresistible Brownie Recipes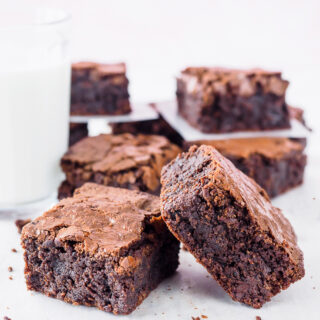 Gluten-Free Almond Flour Brownies
These made from scratch, Gluten-Free Almond Flour Brownies are easy to make, have a rich chocolatey taste, and are incredibly moist and fudgy.
Ingredients
½

cup

unsalted butter

melted

8

ounces

semi-sweet baking chocolate

melted

¾

cup

granulated sugar

3

eggs

large

1

teaspoon

vanilla extract

1

cup

almond flour

Superfine grind blanched almond flour

3

tablespoons

Dutch-processed cocoa

½

teaspoon

baking powder

¼

teaspoon

salt

½

cup

semi-sweet chocolate chips
Instructions
Preheat oven to 350ºF. Place a rack on the middle rack of he oven. Line an 8 x 8 (or a 9 x 9*) baking pan with parchment paper leaving an overhang on two opposite sides.


In a small saucepan over medium heat, melt butter. When butter is partly melted add chocolate and melt entirely. Whisk chocolate and butter together until combined. Set aside to cool (about 5 minutes).


In a medium bowl, add the melted butter and chocolate mixture, add sugar and whisk to combine. Add the eggs one at a time, whisking well after each addition. Add vanilla extract and stir until the batter looks shiny.

Add the almond flour, cocoa, baking powder and salt. Using a rubber spatula fold in the ingredients until just combined, careful not to over mix. Add chocolate chips and fold in.


Spread batter into baking pan and bake for 28 to 30 min. or until the top looks set and a toothpick inserted in middle comes out still moist with a bit of chocolate batter.


Let brownies cool in the pan on a wire rack. Using the parchment paper overhang, lift the brownies onto a cutting board to slice. Brownies can be refrigerated up to five days. For longer storage, store in an airtight container and freeze for up to 3 months.
Notes
If using a 9 by 9 baking dish, reduce baking time by a couple of minutes.
Using parchment paper to line the baking pan and leaving an overhang on opposite ends makes it easier to lift the brownies out of the pan for cutting into even portions.
Nutrition
Calories:
256
kcal
Carbohydrates:
21
g
Protein:
3
g
Fat:
17
g
Saturated Fat:
8
g
Cholesterol:
47
mg
Sodium:
51
mg
Potassium:
150
mg
Fiber:
2
g
Sugar:
16
g
Vitamin A:
230
IU
Calcium:
40
mg
Iron:
1.8
mg
This Gluten-Free Almond Flour Brownies post was originally published on February 5, 2019.