This post may contain affiliate links. Please see my affiliate disclosure for more details.
Roasting a turkey need not be a stressful affair, all it takes are a few simple steps and some basic aromatic ingredients to cook a delicious and flavourful Easy Roast Turkey with Gravy.
Jump to Recipe
Print Recipe
With all the preparations necessary for the holidays, cooking a holiday feast can be a stressful and needless to say time-consuming affair. However, a roast turkey, the classic holiday table centrepiece, doesn't have to be complicated.
Truth is, while a turkey takes some time to roast, it actually takes very little effort and hands-on time. With this recipe for an Easy Roast Turkey with Gravy, I will show you how simple it is to cook a flavourful, tender and juicy roast turkey and gravy.
Defrosting a Turkey
The first thing to remember is that if you're using a frozen turkey you'll need to defrost it in the fridge for a few days, even longer if it's an especially large turkey.
If you forget to take the turkey out before the big event, you can defrost a turkey in a sink full of cold water, changing the water every 30 minutes until the turkey is defrosted. It takes about one hour per pound, so you still need to allow several hours for this process.
Preparing a Turkey for Roasting
To get your turkey ready for roasting you'll first need to remove the neck and giblets from the cavity. I like to keep them to roast in the pan with the turkey, they're great for flavouring the drippings and pan juices for the gravy.
The trick to having a flavourful turkey is to ensure you use aromatic ingredients to rub the bird with, stuff in its cavity and to roast alongside the turkey. No need for expensive ingredients here, all you need are some basic aromatics.
Here are the ingredients needed for cooking a nine to ten-pound turkey.
Ingredients :
Turkey
Butter
Carrots coarsely chopped
Celery stalks coarsely chopped
Onion (yellow or white)
Garlic cloves
Fresh rosemary, thyme and parsley
Salt and pepper
Ground cinnamon, optional
Not only will these ingredients ensure a flavourful roast turkey but the drippings and pan juices from the turkey will provide you with a tasty base for a delicious gravy.
Most of the turkey's flavour, golden colour, and crisp skin will actually come from the butter rub, a mixture of butter, crushed garlic and salt. This rub goes all over the turkey (under and over the skin) and will season the turkey while it roasts.
Next, the turkey gets a light sprinkling of freshly ground pepper and ground cinnamon. My family has been using this rub for as long as I can remember and I can assure you it tastes absolutely amazing. I promise you the cinnamon will not make your turkey taste like dessert! In fact, cinnamon is a spice often used to flavour savoury Middle-Eastern dishes.
Tips:
If you don't own a meat thermometer it's a good idea to purchase one. They're not expensive and will take the guessing work out of knowing when your turkey is fully cooked.
To know if a turkey is done without a meat thermometer, pierce the turkey with a knife in several places, if the turkey is done the juices will run clear.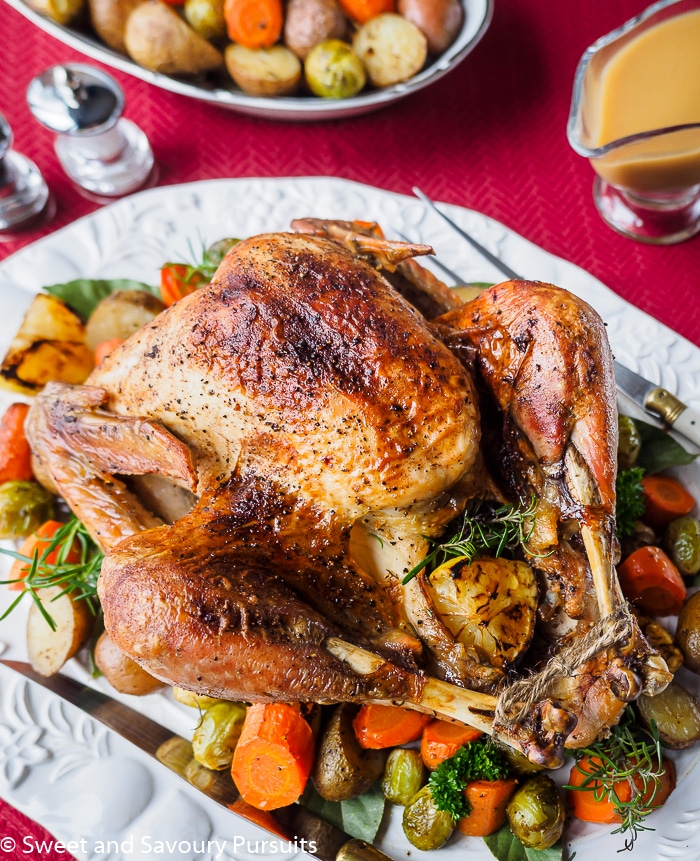 If you are making side dishes you'll want to be working on them while your turkey is roasting. Because once your turkey is cooked, you will want to turn your attention to the gravy that you'll be making from the turkey drippings.
How to Make Gravy from Pan Drippings
The aromatics that were used to roast the turkey will work wonders for this gravy. To make the gravy you will need the following:
Reserved pan drippings, veggies and herbs.
Turkey or chicken stock
Flour
Butter
To make the gravy follow these instructions:
Remove the cooked turkey from the roasting pan. Place the pan with the remaining drippings, veggies and herbs over medium heat. Add the broth and scrape the bottom of the pan. Simmer for a few minutes and then strain the broth into a large measuring cup or heatproof bowl.
In a large saucepan, over medium-high heat, melt the butter and add the flour. Cook the butter and flour mixture (roux) until it starts to colour. Add the reserved broth, whisking to remove any lumps.
Let the gravy simmer over medium heat, taste the gravy and adjust the seasoning with salt and pepper to taste.
If you need inspiration, take a look at my Holiday Favourites section to see other delicious dishes you can make to enjoy alongside this roast turkey. There you will be able to find everything you need from appetizers to desserts to complete your holiday feast.
And finally, if you have any leftover turkey, try making this amazing Creamy Chicken Noodle and Vegetable Soup. Just use turkey instead of chicken.
Happy holidays!
Ideas for Side Dishes
If you make this recipe let me know how it went for you in the comment section below. I'd love to know if you made any variations to the recipe and how it worked out. And if you take a picture, share it with me on Instagram by tagging #sweetandsavourypursuits, I love to see your photos!
This post has been updated. It was originally published in December 2017.
Subscribe to our mailing list to receive notification of new posts in your inbox: