Have you tried quinoa for breakfast yet? If you're looking for a delicious, filling and healthy breakfast to start your mornings off right, consider making these tasty and healthy Quinoa Breakfast Bowls.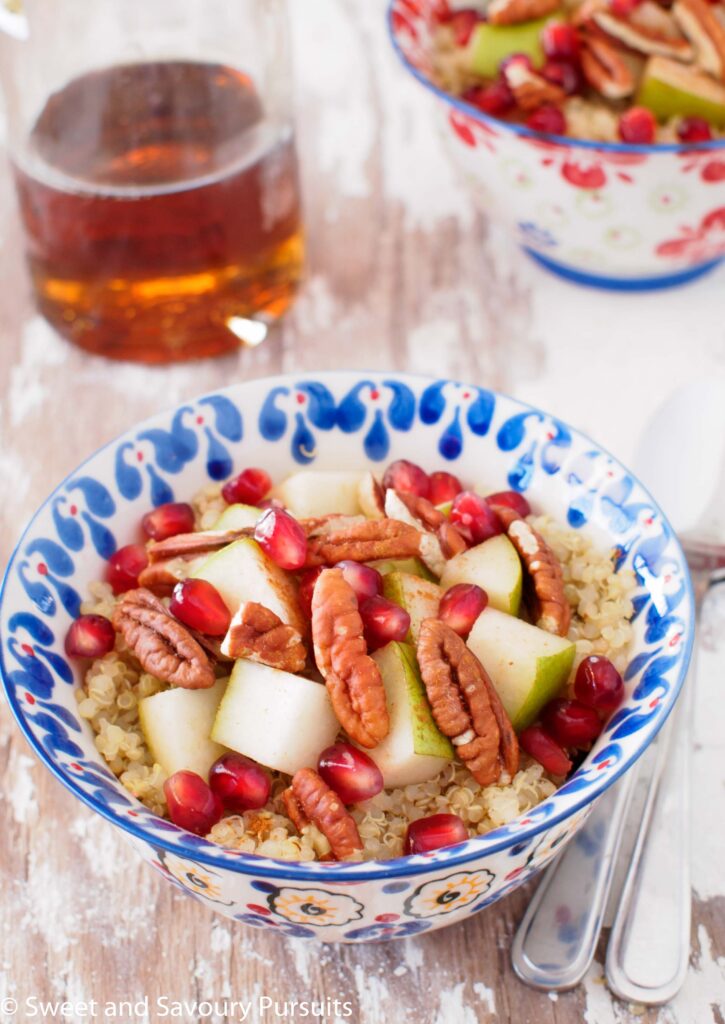 Did you know that quinoa is rather well suited for breakfast? Its naturally nutty and slightly sweet taste makes it a great alternative to the same old bowl of oatmeal, cereal, or granola in the morning.
Quinoa is packed with nutrients and is a good source of complete protein. It's also gluten-free, which makes it a great option for a gluten-free breakfast. The addition of fresh seasonal fruit means this bowl can change with the seasons and is delicious at any time of the year.
One of the best things about this breakfast is how customizable it is, you can use just about any fruit and nut combination you fancy.
For this post, I used pears, pomegranate and pecans. But there are so many options possible. You can use fresh berries in the summer and apples are delicious in the fall.
How to Make it
Steps Overview:
Start by cooking the quinoa. I usually cook one cup of quinoa in two cups of water. But it's best to follow the directions on your package of quinoa.
While the quinoa is cooking, toast the pecans in a 350ºF oven for about 10 minutes, stirring halfway through the baking time. Remove from the oven and let the nuts cool.
Prepare your fruit by washing and dicing it into bite size pieces.
When the quinoa is cooked, fluff it with a fork. Portion and spoon the quinoa into bowls, top each bowl with the fruit and nuts of your choosing.
I chose pear, pomegranate and pecan pieces for these quinoa bowls but you can use whatever fruit and nut or seed you have on hand.
Add a dash of cinnamon, maple syrup (or sweetener of your choice) and dairy or non-dairy milk of your choosing.
You could also add a bit of vanilla extract to add more flavour to your bowl or to switch things up.
Tip: If your mornings are rushed you can always cook the quinoa the night before. In the morning, warm the quinoa with your milk and then add your fruit and nut toppings. It makes a delicious, warm and comforting breakfast.
Quinoa breakfast bowls are one of my favourite ways to start my day, but I also love quinoa in this delicious Southwestern Quinoa Salad and in this Sweet Potato and Black Bean Quinoa dish.
Enjoy!
More Breakfast Ideas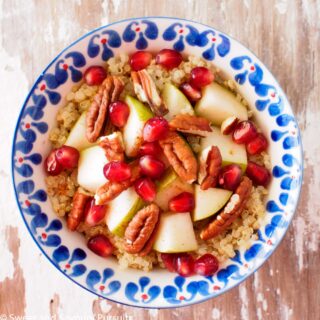 Pear, Pomegranate and Pecan Quinoa Breakfast Bowls
A delicious, filling and healthy breakfast bowl filled with tasty fruit and quinoa.
Ingredients
1

cup

raw quinoa

rinsed

½

cup

toasted pecan pieces

or nut or seed of your choosing

1

large pear

diced

½

cup

pomegranate seeds

warmed milk

as much as you like

maple syrup

to your liking

cinnamon

to your liking
Instructions
To cook the quinoa, combine 2 cups of water and the quinoa in a medium saucepan. Bring to a boil, reduce the heat to low, cover and simmer for 15 minutes or until water is absorbed, stirring occasionally. When quinoa is cooked, fluff with a fork.

Meanwhile, toast the pecans in a 350ºF oven for about 10 min, stirring once after 5 min.

Portion and spoon quinoa into bowls, top each with the diced pear, pomegranate and pecan pieces.

Add cinnamon, maple syrup and warmed milk to your liking.