Last Updated on July 22, 2020 by Sweet and Savoury Pursuits
Make a protein-rich Healthy Vegetable Frittata is less than 30 minutes with this easy to follow frittata guide and recipe.
Jump to Recipe
Print Recipe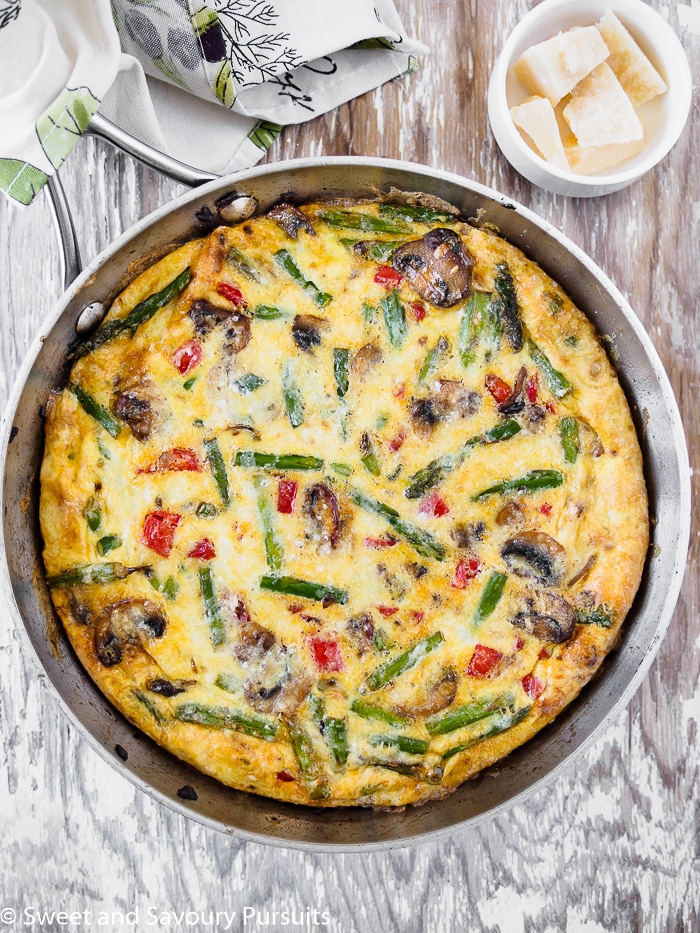 I love quick and easy meals. And a meal that doesn't need to be planned ahead of time is even better. Since frittatas can be infinitely varied and customized to your liking by using your favourite add-ins, it's simple to come up with a delicious frittata with ingredients you have on hand.
In fact, frittatas are great for using bits of leftover ingredients and cleaning out your refrigerator. Steamed veggies and cooked sausage, for instance, are perfect in frittatas.
Because eggs are rich in protein, healthy and inexpensive it's good to have a few easy egg dishes that you could make on rotation.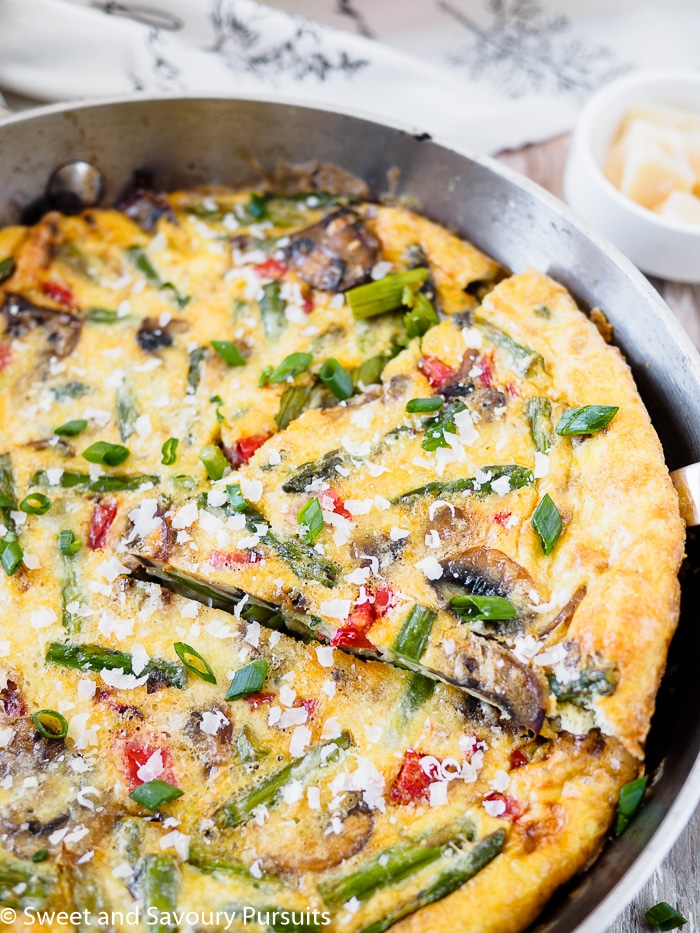 What is a Frittata
Frittata is the Italian name of an egg dish that is made up of eggs, vegetables, cheese and can also contain meat. A frittata is started on the stovetop and then baked in the oven until eggs are set.
How to Make it
Frittatas are so easy to make and can be prepared using one fry pan. Since you start a frittata on the stovetop and finish by baking it in the oven, it's essential to use an oven-safe fry pan or skillet.
If you're using raw vegetables or ingredients that release moisture, you'll need to cook them partway before adding them to the eggs. This will ensure you don't end up with a soggy frittata or one with uncooked vegetables.
A good rule of thumb when making a frittata is to keep your add-ins to a total of 2 cups. Below is a list of filling options you can choose from. For a richer frittata, you can add shredded cheese to the egg mixture.
Once your vegetables are cooked, you can add the whisked eggs to the skillet. Cook on the stovetop at a medium-low temperature until the edges of the frittata are halfway set. Transfer the skillet to the oven and cook until the eggs are puffed, the edges are golden and the center has completely set.
Frittata Filling Options
Garlic, onions, leeks, spring onions
fresh dill, fresh parsley, fresh chives
potato, sweet potato
spinach, kale, asparagus
peas, bell peppers
broccoli florets, cauliflower florets
button mushrooms, wild mushrooms
smoked salmon, sausages, bacon, shredded meat
Parmesan, goat cheese, feta cheese, cheddar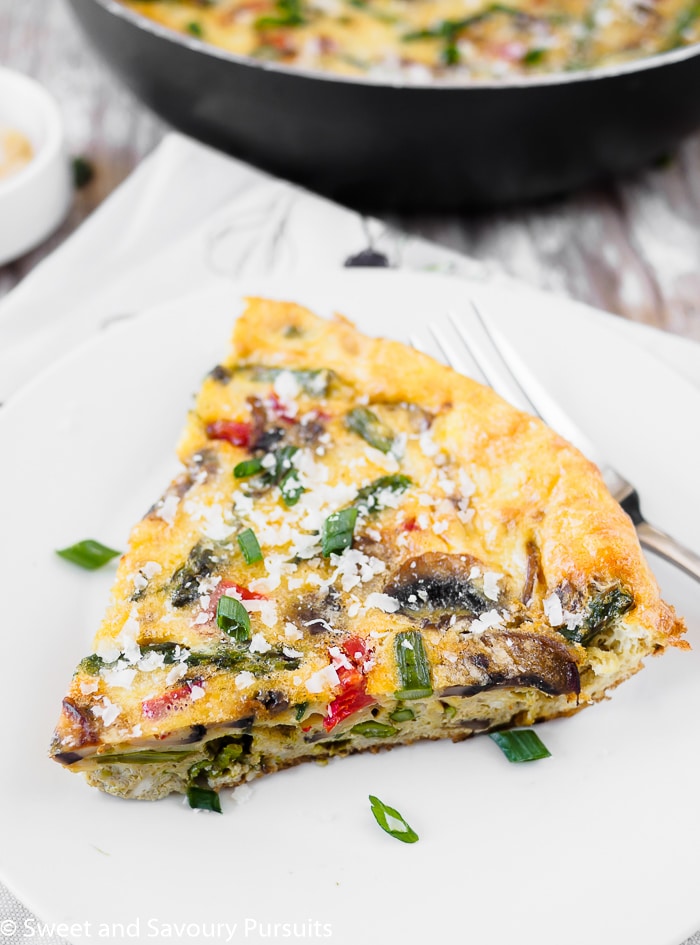 This Healthy Vegetable Frittata makes a lean breakfast, lunch or light dinner meal. It's also a great low-carb option and is gluten-free. Frittatas are great for sharing and are excellent for brunch as they can be served hot, warm or cold.
You could also make healthy frittata muffins by baking them in a muffin pan. Frittata muffins make fabulous appetizers and are perfect for a healthy snack. Check out the note section of my recipe below for instructions on how to make frittata muffins. Enjoy!
Want more quick and easy low carb dinner recipes? Check out these fabulous recipes:
If you make this recipe let me know how it went for you in the comment section below. I'd love to know if you made any variations to the recipe and how it worked out. And if you take a picture, share it with me on Instagram by tagging #sweetandsavourypursuits, I love to see your photos!
Healthy Vegetable Frittata
Easy, quick and versatile, this protein rich Healthy Vegetable Frittata can be ready in less than 30 minutes.
Ingredients
8

large eggs

1

tbsp.

water

salt and pepper

to taste

1

tbsp.

butter

1

tbsp.

olive oil

½

onion

small onion, finely chopped

115 g.

mushrooms

(half a package) washed, trimmed and thinly sliced

227 g.

asparagus

washed and cut into 1 inch pieces

½

red bell pepper

diced

1

green onion

finely chopped

2

tbsp.

freshly grated parmesan

or other cheese to your liking

salt and pepper

to taste
Instructions
Place a rack in the middle of the oven and preheat to 400°F.

In a medium bowl, beat eggs, water, salt and pepper. Set aside.


Heat butter and oil in an ovenproof 10 to 12-inch non-stick skillet over medium heat.


Add chopped white onion and sauté until onions are translucent. Add chopped mushrooms and cook until browned and tender. Stir in the asparagus, cook until tender and add the bell pepper. Cook until slightly tender, add salt and pepper to taste and the green onions.


Pour the whisked eggs over the vegetables, let the eggs begin to set and then using a heat proof spatula, stir the eggs gently and lift the sides of the frittata so the uncooked eggs flow to the bottom of the skillet. shake the pan gently to make sure the eggs settle evenly over all the vegetables.


When the frittata is about half-way set, add the Parmesan cheese and transfer the skillet to the oven.


Bake until eggs are set and frittata is puffed and lightly golden, about 8 to 10 minutes. Do not overbake, it's ok if the centre is still slightly jiggly, the frittata will continue to cook as it cools.


To serve, let the frittata cool in the pan for approx. 5 min, cut into wedges and serve. If serving for dinner, you can serve a salad on the side for a more filling meal.

Notes
For a richer frittata, you can add up to ½ cup of shredded cheese to the egg mixture before adding the eggs to the pan. 
To make Frittata Muffins:
Place a rack in the middle of your oven and preheat to 350°F. Grease your muffins cups or line them with paper liners.
Cook your veggies as in the recipe above. Combine the veggies with the beaten egg (and if using, cheese) mixture.
Add ¼ cup of the egg filling mixture to each muffin cup.
Bake until frittatas are puffed and just set in the center, about 12 to 15 minutes.
Nutrition
Calories:
245
kcal
Carbohydrates:
6
g
Protein:
16
g
Fat:
17
g
Saturated Fat:
6
g
Cholesterol:
341
mg
Sodium:
268
mg
Potassium:
388
mg
Fiber:
2
g
Sugar:
3
g
Vitamin A:
1555
IU
Vitamin C:
24.3
mg
Calcium:
148
mg
Iron:
3
mg
Tried this recipe? Have any questions, comments or suggestions? Leave a comment below!
Let us know how it was!
This post was originally published in April 2017. It has been updated.
Save