Make this healthy low-calorie Sweet Potato and Red Lentil Soup with curry for an easy flavourful meal that is both comforting and delicious!
Jump to Recipe
Print Recipe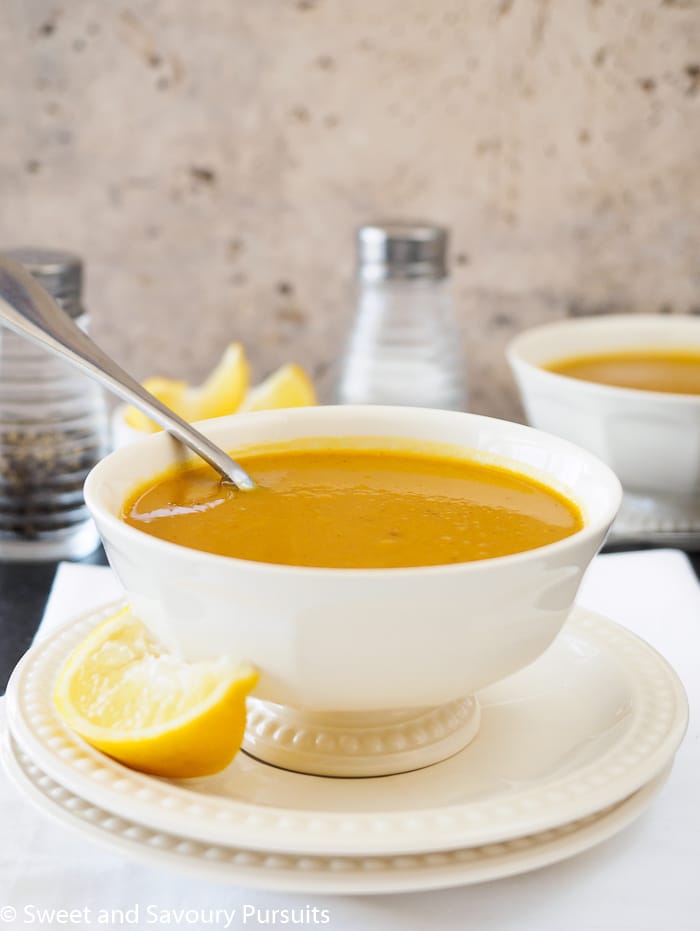 I love taking simple ingredients and transforming them into a flavourful satisfying soup. This curried sweet potato soup incorporates aromatics and spices that can quickly transform bland ingredients into a flavourful dish.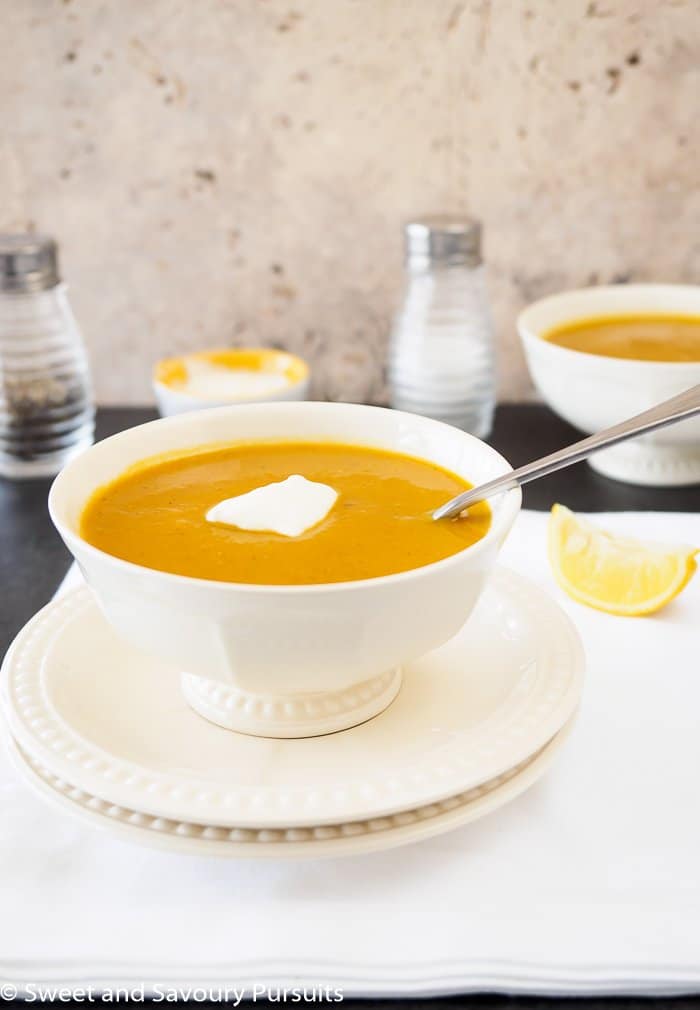 How to Make it
As someone who is always pressed for time, I really likey how quickly this soup comes together.
This Sweet Potato and Red Lentil Soup can be ready in just about 30 minutes. And you don't need an instant pot to do so. By using split red lentils instead of brown or green, you can reduce the amount of cooking time significantly.
To make this soup extra flavourful, I use aromatic ingredients and spices such as garlic, onions, ginger and curry, all of which complement sweet potatoes and lentils.
Ingredients Overview:
Olive oil
Butter
Onion
Garlic
Ginger
Sweet potato
Split* red lentils
Chicken or vegetable broth
Curry, hot or mild
Ground turmeric
Salt and pepper to taste
Fresh lemon juice
Yogourt, optional (for topping)
Steps Overview:
Once you've gathered and prepped your ingredients, you'll want to start by cooking the aromatics so you can build the flavour base of your soup.
Then you'll add the broth, lentils and sweet potatoes. Let the soup simmer until the ingredients are tender, adjust the seasonings to your liking and the soup is ready. You can leave the soup chunky or purée all or part of it in the blender.
You can also make this sweet potato soup in a slow cooker. For the best flavour, cook the aromatics on the stovetop before adding them to your slow cooker along with the rest of the ingredients. Cook on low for about 8 hours or on high for 5 hours or until the lentils are cooked.
Leftover puréed soup can be frozen for later consumption. Simply cool the soup entirely before storing it in a freezer container and freezing. If the soup separates after thawing, simply blend the soup in your blender to get it back to a creamy consistency.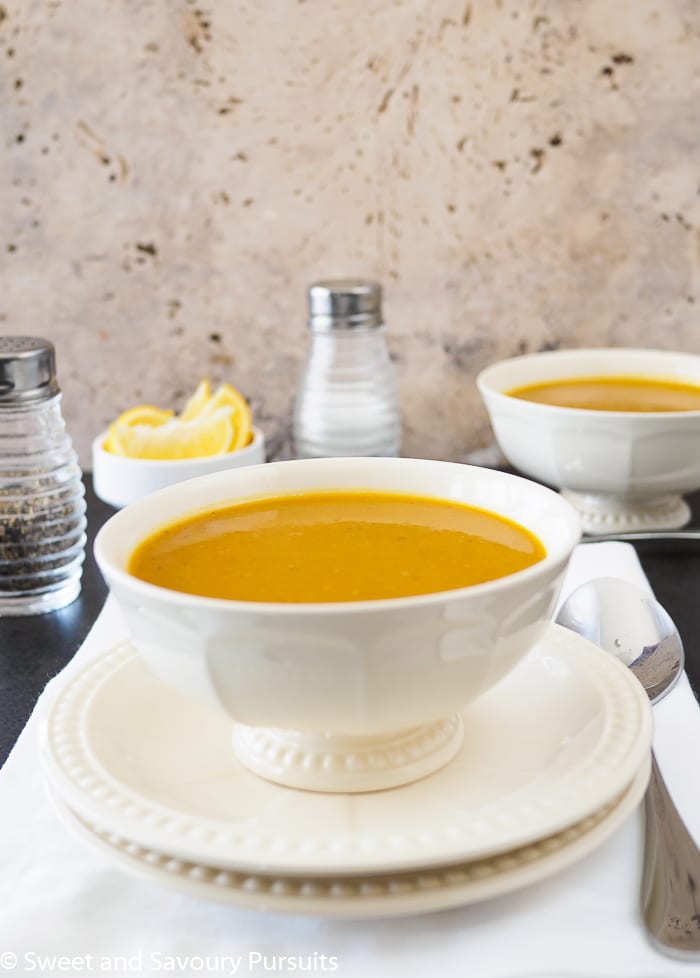 Recipe Variations
Depending on the level of heat you like, you can choose a mild or spicy curry.
Make this sweet potato soup vegan by substituting the butter with oil and using vegetable broth.
Make sweet potato soup with coconut milk by reducing the amount of broth and adding one cup of coconut milk.
Serve the soup chunky or purée part or all of it for a creamier texture.

Save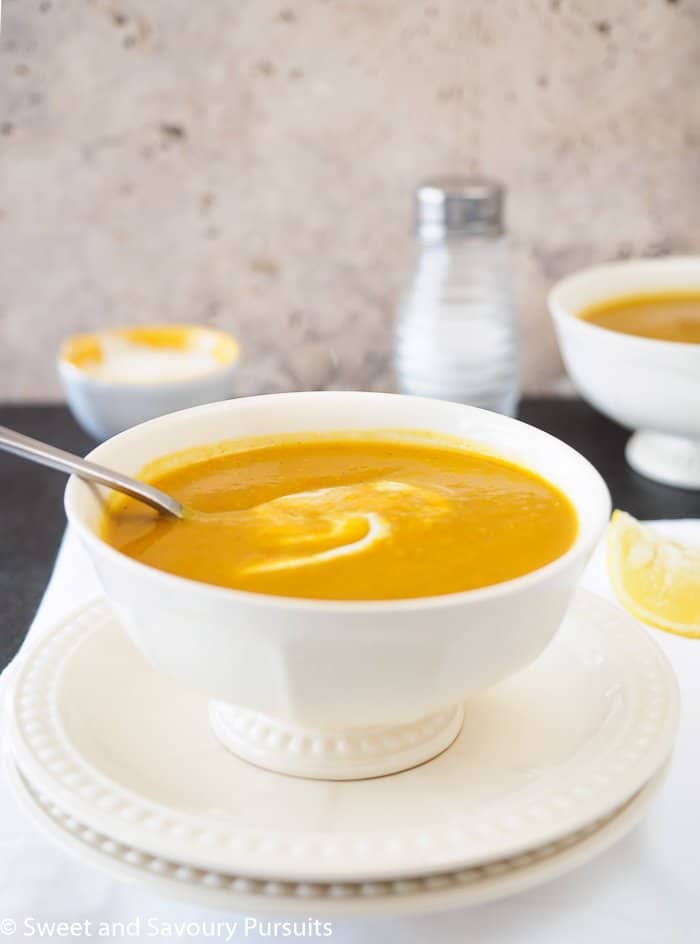 How to Serve
You can serve this soup with a wedge of lemon and a dollop of yogourt. You can also serve it with some hearty bread for a more filling and comforting meal.
If you like puréed red lentil soups you might want to take a look at this delicious Red Lentil and Cauliflower Soup.
Enjoy!
More Cozy Soups to Try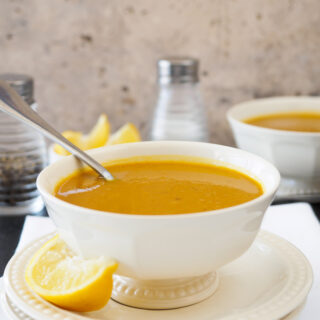 Sweet Potato and Red Lentil Soup
Make this healthy low-calorie Sweet Potato and Red Lentil Soup for a quick and easy flavourful meal that is comforting and delicious!
Ingredients
1

tablespoon

olive oil

1

tablespoon

butter

1

small onion

diced

1

clove

medium garlic

minced

1

inch

piece fresh ginger

grated

1

sweet potato

peeled and chopped

1/2

cup

split* red lentils

rinsed

6

cups

chicken or vegetable broth

1

teaspoon

curry

hot or mild

1/2

teaspoon

ground turmeric

Salt and pepper to taste

2

tablespoon

fresh lemon juice

more to liking

Yogourt for topping

optional
Instructions
Heat oil and butter in a large saucepan over medium heat.

Add onion and cook stirring a few times until they begin to get translucent, add the minced garlic and grated ginger, cook stirring until softened, about a couple of minutes.

Add the curry and turmeric and cook stirring until the spices are fragrant, about 1 minute.

Add the chicken (or vegetable) broth, the red lentils and the chopped sweet potato. If you are also using coconut milk, add it here.


Bring to a boil and then lower heat to a simmer and simmer the soup for approximately 15 minutes, stirring now and then so the lentils don't stick to the bottom of saucepan.

When the sweet potato and lentils are tender, add 2 tablespoons of freshly squeezed lemon juice, salt and freshly ground pepper to taste.

You can either keep the soup chunky or using a stick blender you can purée part of the soup or all of it if you prefer a creamier texture. You can also transfer the soup in batches to a blender and purée until smooth. Pour the soup back into the saucepan and adjust the seasonings and consistency of the soup with more broth or water.

Garnish the soup with a dollop of yogourt and serve with lemon wedges (optional).
Notes
You can use regular red lentils for this soup but they take twice as long to cook as split lentils.
Make this soup vegan by using only oil to cook the aromatics and vegetable broth for the soup.
If you're adding coconut milk to this soup, reduce the amount of broth by the same amount of coconut milk you are going to use (one regular sized can contains about 400 ml). You could always add more broth to thin out the soup if you find it too thick.
Nutrition
Calories:
238
kcal
Carbohydrates:
29
g
Protein:
13
g
Fat:
8
g
Saturated Fat:
3
g
Cholesterol:
7
mg
Sodium:
155
mg
Potassium:
684
mg
Fiber:
8
g
Sugar:
3
g
Vitamin A:
4795
IU
Vitamin C:
56.2
mg
Calcium:
53
mg
Iron:
3
mg