This easy recipe for healthier Sweet Potato Muffins combines whole wheat pastry flour and sweet potatoes for a wholesome breakfast. A great way to start your day, these muffins have long staying power and will keep you and your family feeling full and satisfied.
Jump to Recipe
Print Recipe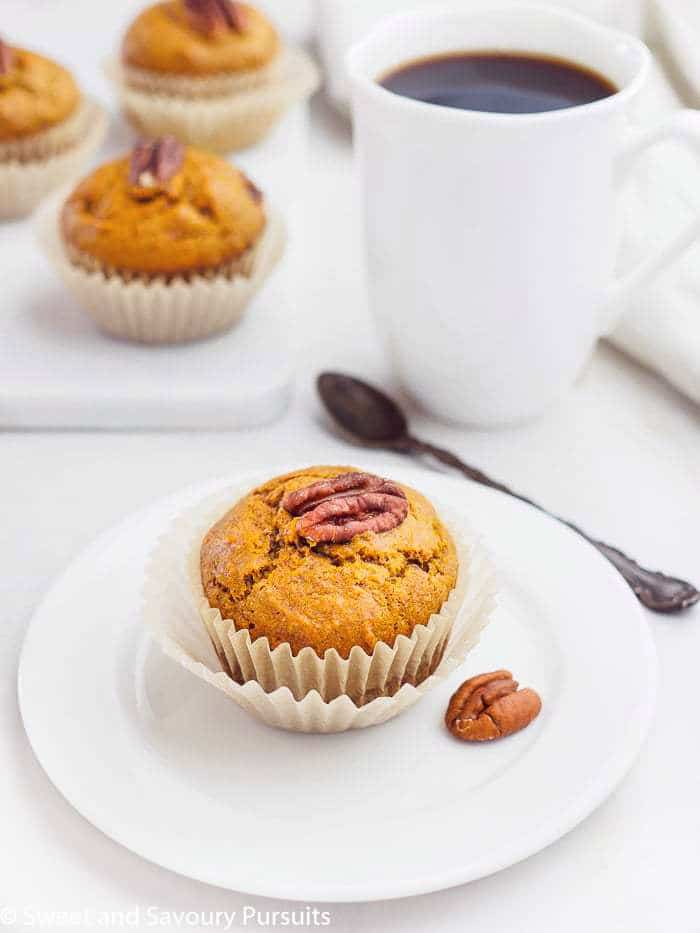 Sweet Potato Muffins make a great option for a healthy breakfast, snack or treat for the entire family. The recipe for this post is adapted from this recipe I found on NancyC.
The original post for this recipe was for 6 muffins, so for this updated post, I doubled the recipe to make a dozen muffins. Since sweet potatoes are naturally sweet, I also cut back on the sugar to make these muffins healthier without affecting the taste. I also reduced the amount of oil and these Sweet Potato Muffins still came out delicious, tender and moist.
How to Make these Muffins
This muffin recipe can be made using either steamed, boiled or roasted sweet potatoes. You'll need about one medium to large sweet potato to get one cup of mashed sweet potato purée.
I include pecans (but they can be omitted) and spice these muffins with cinnamon, nutmeg and ginger.
Steps Overview:
To cook the sweet potatoes quickly, cut them into half-inch slices and steam them. It takes about 15 minutes to steam more than enough sweet potatoes to make this recipe.
Whether you choose to steam, boil or roast them, make sure to cook your sweet potatoes until they are completely tender so they can be easily mashed with a fork.
If you are roasting sweet potatoes for dinner with the intent to use the leftovers for these muffins, remember to keep some sweet potato wedges unseasoned, this way you have plain sweet potatoes to use in these muffins.
Once you've mashed the sweet potatoes, add two tablespoons of water to thin the mash into more of a thick purée consistency. Let the sweet potato purée come to room temperature before making the muffins.
I always use whole wheat pastry flour to ensure tender and fluffy baked goods. If you don't have any or can't find it in grocery stores near you, I suggest you use a combination of whole-wheat and all-purpose flour. Just use half whole-wheat and half all-purpose flour for easy measuring.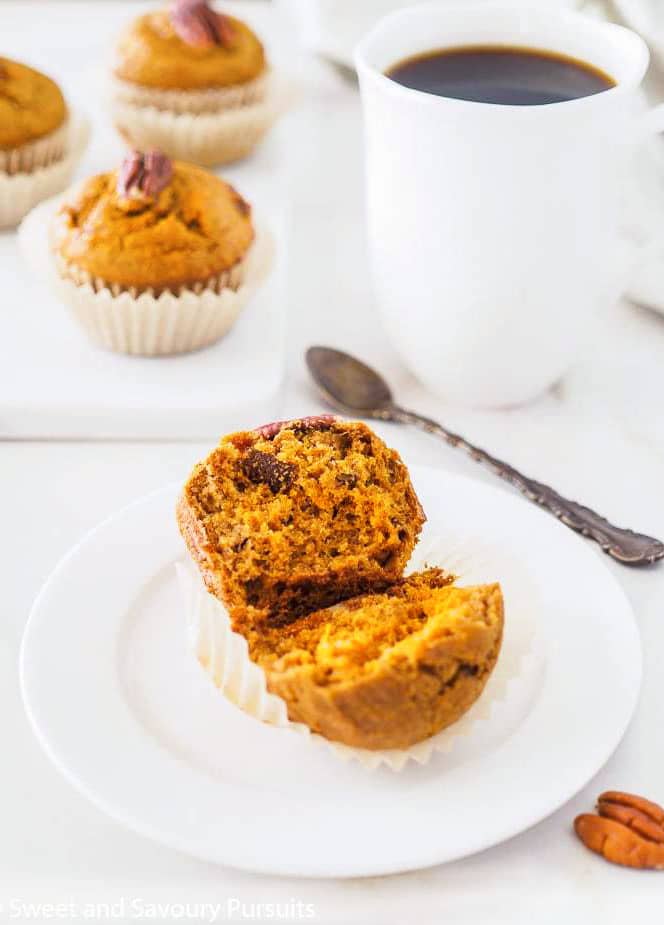 A Great Snack for Toddlers and Kids
These healthier muffins also make a great breakfast or snack option for toddlers and kids. If you want smaller portions, simply bake these muffins in a mini muffin tin to have baby-sized muffins you can give your toddlers and young children. Though I would strongly recommend omitting the nuts in this recipe to avoid any choking risks.
Variations to this Recipe:
Substitute 1/2 cup of whole-pastry flour with oatmeal or oat flour.
Replace the brown sugar with coconut sugar for a refined sugar-free muffin.
Substitute pecans with walnuts, pepitas, cranberries or even mini chocolate chips for an extra special treat.
How to Store
Store these Sweet Potato Muffins in an airtight container on the counter for up to three days. If you have extra muffins store them in the refrigerator for up to a week or better yet, freeze them to keep them fresh for longer. Remove the muffins from the freezer and let them thaw in the refrigerator overnight. They can be warmed in a low oven for a freshly baked taste.
If you would like to bake a more savoury sweet potato recipe, these tasty sweet potato biscuits make a great side to a roast chicken or turkey dinner.
Enjoy!
More Muffins Made with Whole Wheat Flour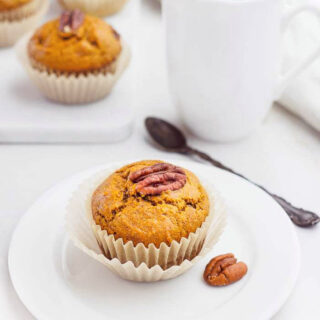 Sweet Potato Muffins
This easy recipe for healthier Sweet Potato Muffins combines whole grains and sweet potatoes for a wholesome breakfast. A great way to start your day, these muffins have long staying power and will keep you and your family feeling full and satisfied.
Ingredients
1

cup

mashed sweet potato

+ 2 Tbs. water

1-1/2

cups

whole wheat pastry flour

1

tsp.

ground cinnamon

½

tsp.

ground nutmeg

¼

tsp.

ground ginger

1

tsp.

baking soda

½

tsp.

baking powder

¼

tsp.

table salt

2

large eggs

½

cup

light brown sugar

packed

2

tablespoon

pure maple syrup

⅓

cup

light olive oil

½

cup

toasted pecan pieces

optional
Instructions
*Cook the sweet potato (steam, roast or boil). When soft enough to mash with a fork, mash the sweet potato and add 2 tablespoons of water.


Position a rack in the center of the oven and heat the oven to 375°F.

Grease or line 12 regular-sized muffin cups.

In a medium bowl, whisk flour, cinnamon, nutmeg, ginger, baking soda, baking powder and salt.

In another bowl, whisk the eggs, sweet potato mash, brown sugar, maple syrup and oil until well combined.

Add the wet ingredients to the dry and stir just until evenly incorporated.

If desired, add the pecan pieces and stir to incorporate.

Spoon the batter into the prepared muffin pan, distributing the batter evenly.


Bake until the muffins are golden and a toothpick inserted in a muffin comes out clean, about 18 to 20 minutes.

Cool in the pan for 2 minutes and then transfer the muffins to a wire rack to cool.
Notes
Make sure to peel the sweet potatoes before you cook them if you use the steaming or boiling method.
If you like, you can substitute 1/2 cup of whole-pastry flour with oat flour.
For a refined sugar-free muffin, replace the brown sugar with coconut sugar.
For nut allergies, omit nuts from recipe
Because nuts can be a chocking hazard for toddlers, omit nuts from recipe when making these muffins for toddlers.
Nutrition
Calories:
201
kcal
Carbohydrates:
25
g
Protein:
3
g
Fat:
10
g
Saturated Fat:
1
g
Cholesterol:
27
mg
Sodium:
172
mg
Potassium:
160
mg
Fiber:
2
g
Sugar:
11
g
Vitamin A:
1610
IU
Vitamin C:
0.2
mg
Calcium:
40
mg
Iron:
1
mg
This recipe for Sweet Potato Muffins was originally published in May 2014. I've updated the post as well as the recipe and included new photos.